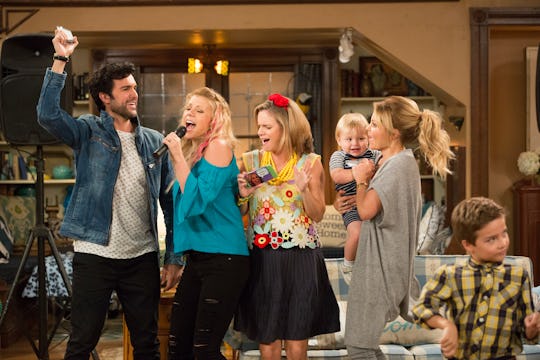 Michael Yarish/Netflix
New Kids On The Block Make A Cameo On 'Fuller House' Season 2 & We're All In Love
(Warning: This post contains spoilers from Episode 10 Of Fuller House.) You really never know who is going to walk through the front door of the Tanner-Fuller house on Fuller House. Sometimes it's Bruno Tonioli, sometimes it's Alan Thicke, and sometimes its a group of handsome boyband legends. New Kids on the Block made a cameo on Fuller House Season 2 and we are all still in love with all of them. They showed up for D.J.'s birthday because of course they did.
It was D.J.'s 39th birthday and her family was planning a surprise for her. The kids had thrown together a "surprise" party which she agreed to act surprised for. Matt bought her tennis rackets, which was admittedly a little lame, especially since Steve got her a pillow person because he is just too adorable for words. But the best present came from Kimmy. Well, almost. Kimmy bought D.J. tickets to see New Kids on the Block off the internet and D.J. was over the moon about it. But, of course, this didn't really work out because the tickets turned out to be fakes. So in order to save the day, Kimmy and Steph stalked the band, highjacked their limo, and convinced them to come over to the house before the show to sing happy birthday to D.J. Honestly, nothing on this show surprises me anymore.
Sadly, D.J. was incapacitated due to emergency dental surgery after biting into a key that her son Max hid in her cupcake, so she slept through her happy birthday serenade. The New Kids, however, were absolutely adorable and charming, and totally good sports about the mild sexual harassment they underwent while D.J. was hopped up on pain killers. In the end, Steve managed to snag the three women tickets to the show (front row, naturally) though he gave Matt the credit. Then the band took D.J. and eventually the other two girls on stage for a few renditions of their most popular songs. I want to believe this kind of thing happens in real life, I really, really do.
I'm slightly younger than D.J., so perhaps my sister and best friend will convince the Backstreet Boys to sing happy birthday to me in my living room one day, and then manage to get me front row tickets to their show where they will bring me on stage and serenade "I Want it That Way" to me while I sway awkwardly on a stool. It's unlikely but hey, it happened to D.J. Tanner, why can't it happen to me?