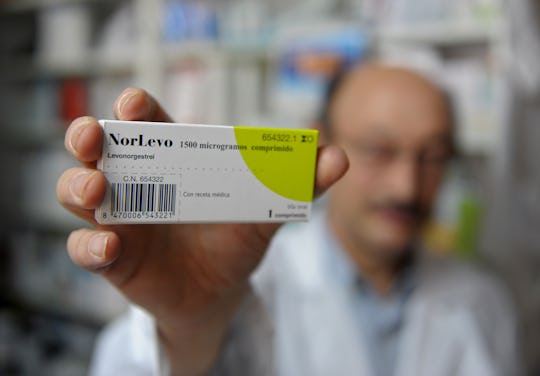 Jasper Juinen/Getty Images News/Getty Images
This State Just Changed The Birth Control Game
If you've been following the news recently, you know that the topic of birth control has been pretty much everywhere. From contraceptive recalls, a possibility of even more limited access to birth control, and more, it can seem that women's rights are still on the fringe regarding what they choose do with their own bodies. But, in the middle of all the chaos, there is some good news. Four states are now stepping up to the plate to help women get their birth control, and, more specifically, New Mexico will allow pharmacists to prescribe birth control — a huge step in the right direction for women's health care.
As the Santa Fè New Mexican reported, "Pharmacists for the first time will be able to write prescriptions for hormonal contraceptives, meaning a woman won't need to visit a physician in most cases to obtain birth control." New Mexico joins California, Oregon, and Colorado as the latest state to allow women to bypass a doctor's office in order to get birth control. And while actually paying for their birth control will continue to be an issue for some women in New Mexico, avoiding a trip to the doctors will cut costs, as well as (hopefully) encourage more women to get on birth control.
The new regulation was put into place by the state's pharmacy board and went into effect June 9. As the Trump administration continues to threaten women's access to affordable health care, including birth control, more states are looking to do what they can to ease the stress. As Ben Kesner, executive director of the New Mexico Board of Pharmacy, told The Washington Post,
Pharmacists are easy-access people. So instead of making an appointment with a primary care physician, you can easily go to a pharmacy and get your contraception that way. It's kind of a convenience thing.
And certainly, as "20 million American women currently live in "contraceptive deserts" — places with less than one clinic per 1,000 women in need of government-funded birth control," according to Glamour — this latest development in New Mexico is welcome news.
However, pharmacists will still need to undergo proper training in order to prescribe the birth control, per the Santa Fè New Mexican. Pharmacists will be required to check the patient's blood pressure, as well as report to their usual doctor that they're going on birth control. So far, women will be able to get hormonal oral contraceptives, an injection, or a patch. So, while the rest of nation fights for access to birth control, New Mexico is sending a clear message: It won't be bullied by any health care bill that threatens women's health.