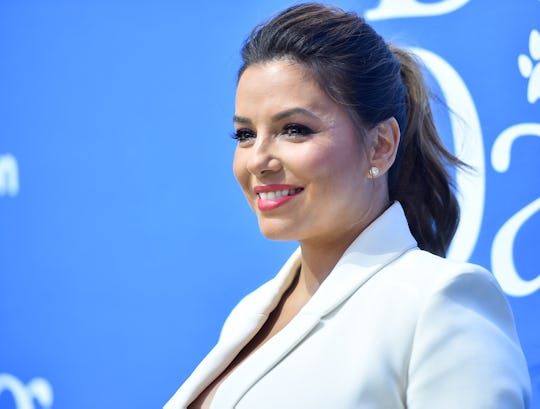 Alberto E. Rodriguez/Getty Images Entertainment/Getty Images
Why New Mom Eva Longoria Says "Thank You" To Her Boobs Every Day
Less than seven weeks ago, Eva Longoria welcomed her first baby, a boy named Santiago. On Sunday, the actress and her husband, José Baston, took took a break from new parent duties to attend the premiere of her new movie, Dog Days. At the event, she opened up about several things she has discovered as a first-time mom. One thing she's particularly grateful for? Her body. Eva Longoria explained why she thanks her boobs when she breastfeeds, and even though it sounds a little silly, other breastfeeding moms will totally get it.
At the premiere, Us Weekly asked Longoria, 43, if she felt any pressure to get her pre-pregnancy body back. "I am very grateful and thankful for my body for making this amazing human being," Longoria responded. "So immediately putting it through the ringer to get back into shape is not a priority. Every time I breastfeed, I say 'thank you' to my boobs. I'm like, 'Thank you for giving me a child! Thank you, boobs, thank you, body, for doing all of this for my son.'"
In the United States, about 51 percent of babies are still breastfeeding by the time they reach six months of age, according to the Centers for Disease Control and Prevention. That means about half of moms are no longer breastfeeding by the time their baby is 6 months old. Some moms are physically unable to breastfeed for a variety of reasons, and it's clear that Longoria is very grateful that she is able to breastfeed, and she is not taking that for granted.
Breastfeeding was actually very much on Longoria's mind at the premiere — she told Us Weekly that she planned to find a way to pump during the movie. "I'll be taking a break out of the movie to go and pump," she told the magazine. "He's at home with his baby nurse, but, yeah, I'm going to be running back to him tonight!"
In fact, this weekend marked Longoria's first day back to work after maternity leave. "I've been with him day and night not working for seven weeks, and it's been the best seven weeks of my life," Longoria told ET Online this weekend. "I just miss him so much. Today's the first day I'm working, and it's weird!"
She also opened up about how her solid support system has really helped her through these early stages of motherhood. She told ET Online:
Kerry Washington's basically my doula. I just have this amazing community of women around me that have really helped me transition into motherhood, and I think you need that.
And when asked what the best piece of advice Kerry Washington has given her, she replied:
To follow your own instincts. I have a baby nurse, I have my mom, I've got my mother-in-law, and she's like, "You have the best instincts."
Longoria is clearly over-the-moon excited to finally be a mom. And during her pregnancy, she opened up about being particularly excited to be having a baby boy. On International Women's Day back on March 8, Longoria made a video talking about the importance of raising her son to be a good man. In the video, which she posted on Instagram, she said:
I'm so excited that I'm having a boy because I think the world needs more good men. This boy, my son, will be surrounded by very strong, educated, powerful women and I think it's important that he sees those types of role models in his life so he knows how to support it, how to applaud it and how to honor it.
I have no doubt that Longoria will succeed in that goal — Kerry Washington will make sure of it.