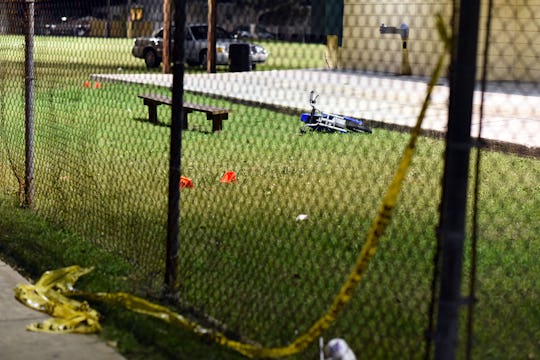 Cheryl Gerber/Getty Images
New Orleans Music Video Shooting Leaves 16 Injured, & Police Still Searching For Suspects
At least 16 people were injured Sunday night after a shooting disrupted a music video filming in New Orleans' Bunny Friend Park, FOX News reports. According to police, approximately 500 people gathered in the Upper Ninth Ward park to film an impromptu music video following a nearby second-line parade by the Nine Times Social & Pleasure Club. Officers were dispatched to monitor the parade, and were headed to the park to break up the crowd when shots were fired. At least two men allegedly fired shots into the crowd, according to witness reports, and one man was said to have fled the scene holding a silver machine gun, though the shooting reportedly continued after he ran away. A total of 10 victims were taken to the hospital by ambulance, and police say that at least 6 more were taken in private vehicles. None of the victims' conditions are currently known, though no fatalities have been reported.
Second-line parades are a common sight in New Orleans on Sunday afternoons, with dozens scheduled throughout the year all over the city, according to KnowLa, a popular Louisiana travel sight. The parades usually include brass bands and street dancing. Video that was taken during the parade prior to the shooting has since been posted on YouTube:
The parade participants are thought to have been separate to those involved in the music video, said police spokesperson Tyler Gamble on Sunday, but the sheer number of people at the park made it difficult for the scene to be contained once shots were fired. At a news conference following the shooting, New Orleans mayor Mitch Landrieu said, "at the end of the day it's really hard to police against a bunch of guys who decide to pull out guns and settle disputes with 300 people between them."
The circumstances surrounding the shooting are still unknown, and according to USA Today, police have said it isn't clear if the events were gang-related. According to witness reports, both sides of the fight fled the scene on foot after police arrived. So far, no arrests have been made.
Image: Cheryl Gerber/Getty Images