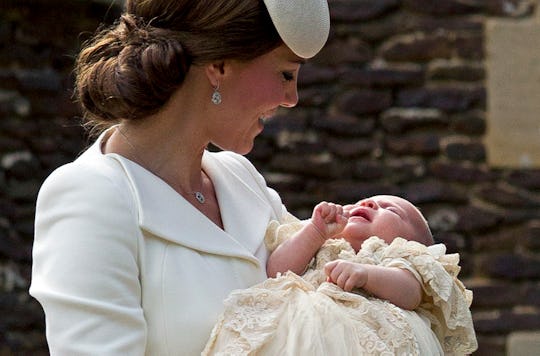 WPA Pool/Getty Images Entertainment/Getty Images
New Photos Of Princess Charlotte Are Seriously Adorable
Can you believe how much has happened in a year? It feels like just yesterday both Americans and Brits alike were celebrating the birth of the littlest English royal, who was born almost a year ago. But alas, Princess Charlotte has grown up and these new photos of Princess Charlotte, while adorable, are here to prove it.
Little Charlotte celebrates her first birthday on Sunday May 1, and her mom, the Duchess of Cambridge (or as we know her, Kate Middleton), decided to celebrate by giving everyone a peek at some seriously adorable mile-marker photos just for the occasion. Kate sat 1-year-old Charlotte down for her first solo, royal portrait session at Kensington Palace recently and, in honor of her big birthday, the royal family released the photos to the public. (They are seriously the best thing you'll see all week.)
The photos show Charlotte dressed in a pink dress and a blue dress, each one accompanied by matching sweaters and bows. At the age of 1, Charlotte already dresses better and coordinates her outfits better than I do — and I am kind of jealous about that. She's shown posing with a chair, looking into and away from the camera, and playing with a walking toy outside looking incredibly excited and happy while doing so.
The photos are on par with the ones photographers snapped earlier in the month of her older brother, Prince George, meeting President Obama in his bath robe. According to the official Kensington Palace Twitter account, the Duke and Duchess of Cambridge — Prince William and Kate — were more than happy to share the photographs of Princess Charlotte (as they should be... those are two stinkin' adorable tots). Kate reportedly snapped the pics at the family's Norfolk home back in April.
During ITV's The Queen At Ninety special, Kate gave some insight into her life as a mother of two and how much the Queen enjoyed having the new princess around.
"It's very special having a new little girl...I feel very, very lucky that George has got a little sister," Middleton said in the documentary, which aired back in March. "The Queen was really thrilled that it was a little girl, and I think as soon as we came back here to Kensington she was one of our first visitors here."
I have to agree with the Queen: I too am thrilled about a little girl being a part of the Royal Family (after all those years of royal family talk centering on Princes William and Harry, and father Prince Charles, wouldn't you be?). Charlotte looks so adorable in the new pictures released by the family, and I cannot wait for the next few years when we'll get to watch her grow up.