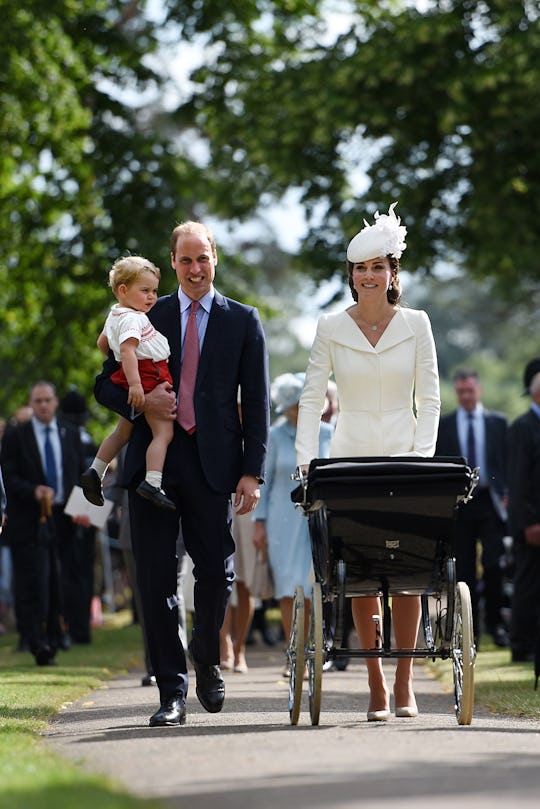 WPA Pool/Getty Images
New Photos Of Princess Charlotte Show She's The Spitting Image Of Her Big Brother
If you needed a pick me up this weekend, you just lucked out: The royal family has just released a few pictures of Princess Charlotte taken by Kate Middleton, and they are adorable. I guess that last part is no big surprise, but here's what kind of is: Charlotte also sort of looks just like her brother, Prince George. And I mean just like him. Although, call me crazy, but she definitely rocks a cardigan slightly better. The pair of photos, which were reportedly taken by her mom, the Duchess of Cambridge, at the family's Norfolk home earlier this month, were released on Instagram this morning. According to a corresponding press release, Kensington Palace is "delighted" to share these new snaps with the world — and let's be honest, we are equally delighted to have them.
There really haven't been many public photos of the two royal children recently, since Charlotte's christening in May, which has left us all in a serious void. As such, all of Twitter is fawning of them. They've even sparked a bit of a debate, between those who think Charlotte looks just like her brother, and those who think that the two siblings look different from each other, noting Charlotte's blue eyes and dark hair, as opposed to George's blonder complexion. I myself am staunchly in the first camp; but either way, the resemblance between the two babies is sort of adorable. They both have those super round faces, chubby cheeks, and an often confused expression. In Charlotte's new pictures she's playing with a stuffed animal and then staring out into the distance, which is how most of us probably look gazing into the refrigerator contemplating more Thanksgiving leftovers this weekend.
The pictures of Charlotte are adorable — and I'm betting there will be lots of baby Brits running out to grab identical pink cardigans and a stuffed dog for the holidays. She's already stepping into her mother's shoes of style icon.
Yea, I think even I want a pair of those pink sweater tights.
Image: WPA Pool/Getty Images; KensingtonRoyal/Instagram