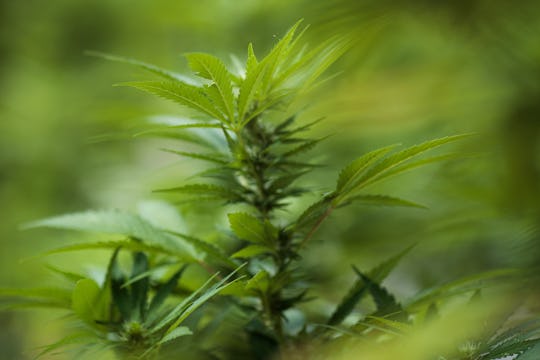 Drew Angerer/Getty Images News/Getty Images
Cannabis Extract Reduces Seizures In Some Kids, Study Finds
Although considered controversial in practice, research has documented time and again that cannabis can have a wide range of medicinal benefits for children and young adults. In fact, medical marijuana has been shown to ease symptoms in children living with cancer, certain motor disorders, and neurological conditions. And now the results of a highly-anticipated new study has found that cannabis extract can reduce seizures in kids with a rare form of epilepsy.
According to CNN, research published Wednesday in the New England Journal of Medicine discovered that cannabidiol, or CBD, a cannabis-derived non-psychoactive compound, can cut down on the number of seizures in children with Dravet syndrome, a severe and life-threatening form of epilepsy. The study's results showed that the frequency in convulsive seizures — also known as tonic-clonic seizures — was 23 percentage points lower in kids taking a CBD oral solution than of those in the placebo group. More than 40 percent of participants who saw a 50 percent reduction in seizures used CBD compared to 27 percent with placebo, according to the findings.
Researchers conducted a randomized, double-blind, placebo-controlled trial with 120 children and young adults living with Dravet syndrome. The treatment period for study was 14 weeks; it was supported with funding by GW Pharmaceuticals.
The results of the New England Journal of Medicine study should be welcome news for parents fighting for alternative medicine for their children. CBD, which is one of 66 cannabinoids in the Cannabis sativa plant, has already been shown to have anti-inflammatory, anti-anxiety, and antidepressant properties, according to a study published in the Journal of Clinical Pharmacology. The compound is also thought to be an antioxidant and help ease nausea. But the use of medical marijuana is still highly contentious.
Of course, it may not seem that way. After all, more and more states are implementing medical marijuana programs. But the federal government has pushed back against the use of CBD as a medicinal treatment for some time now. Right now, the U.S. Drug Enforcement Administration is in a middle of a lawsuit over its classification of CBD as a Schedule I drug, despite its lack of psychoactive properties. Attorney Jeff Sessions is also looking to crackdown on marijuana businesses and users, although the compromise funding bill bars the U.S. Department of Justice from going after states where medical cannabis is legal, according to Rolling Stone.
Even though strides have been made in legitimizing the use of cannabis as a medical product, there is still a long way to go. The more research that supports its health and wellness benefits, the better.
Readers should note that the regulations and data surrounding CBD are still developing. As such, the information contained in this post should not be construed as medical or legal advice. Always consult with your doctor before trying any substance or supplement.