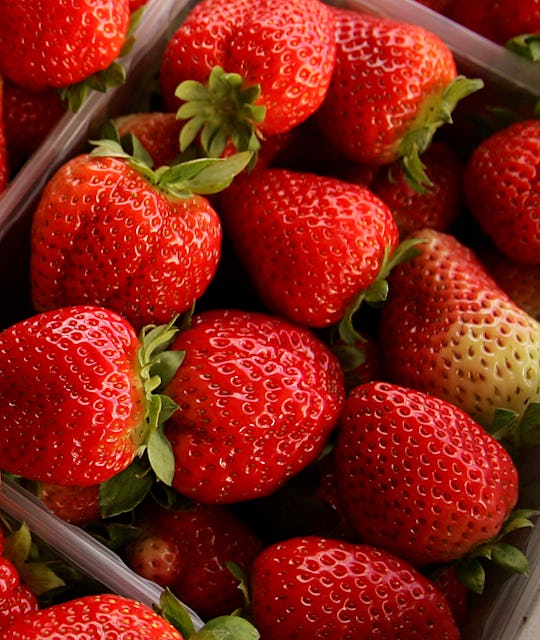 Abid Katib/Getty Images News/Getty Images
New Research Finds Eating Fruit During Pregnancy Could Make Your Child Smarter
The old saying "an apple a day keeps the doctor away" is one reason to eat fruit every day. Now, if you're pregnant, there's an even better reason to stock up on your fruit supply. New research has found that eating fruit during pregnancy could make your child smarter. It's already known that a healthy diet consists of fruit, with many benefits such as preventing weight gain, protecting against some types of cancer, and even reducing the risk of heart disease and Alzheimer's. Now, as the new research suggests, we may be able to benefit from sweet and tasty fruit much earlier in life.
Child development researchers in Canada discovered that women who eat fruit during their pregnancy gave birth to children who performed better on developmental testing once they reached one year old. They used a traditional IQ scale as its model — the average IQ is 100 — and the results found that children of mothers who consumed six to seven servings of fruit per day placed six to seven points higher than the average IQ.
"Fruits have been an important part of the human diet for thousands of years. We wanted to know if more fruit intake improves our ability to learn, associate professor of pediatrics at University of Alberta's Faculty of Medicine & Dentistry and lead author of the study Piush Mandhane wrote in the journal EbioMedicine. "We found that mothers who ate more fruit during pregnancy had children who did better on developmental testing at 1 year of age."
The researchers used data from 688 Canadian infants to find the results that fruit intake could be a significant factor in the development of a child's brain.
"We wanted to know if we could identify what factors affect cognitive development," Manhane said in the study. "We found that one of the biggest predictors of cognitive development was how much fruit moms consumed during pregnancy. The more fruits moms had, the higher their child's cognitive development."
Lab tests were conducted on fruit flies to further research the relationship between fruit consumption and learning and memory. According to professor Francois Bolduc, who partnered with Mandhane on the study, the cognitive benefits of fruit consumption have been scientifically shown before with the use of fruit flies.
"Flies are very different from humans but, surprisingly, they have 85 percent of the genes involved in human brain function, making them a great model to study the genetics of memory," Bolduc said in the study. "To be able to improve memory in individuals without genetic mutation is exceptional, so we were extremely interested in understanding the correlation seen between increased prenatal fruit intake and higher cognition."
As the research shows, fruit appears to be the best brain food for a budding bundle of joy and the study's results may be able to show an even stronger connection between eating fruit and brain development. It all sounds great, but Mandhane discourages pregnant women from going bananas in the fruit section in the supermarket. Eating too much fruit, which contain high levels of natural sugar, could result in potential health issues. Just about two cups of fruit per day is recommended for women, but don't feel like you should turn down an extra serving of your favorite seasonal fruit.