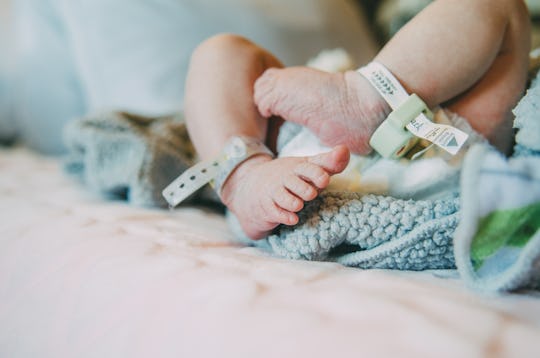 Fotolia
Study: Black & Hispanic Premie Babies Are At Higher Risk For Neonatal Conditions
When a baby is born before reaching full term, she faces a long list of potential health concerns. And while past studies have suggested that all babies have the same risk, new research into premie health suggested race disparities. Specifically, black and Hispanic babies born prematurely have a two to four-fold increase of severe health problems, according to CNN.
Researchers looked at data from 582,297 prematurely born infants in New York City, all of whom were born at 24 to 31 weeks' gestation, between 2010 and 2014, and then later died between 2010 and 2015. They found that black and Hispanic babies were significantly more likely to suffer from four severe neonatal health problems, including: necrotizing enterocolitis, intraventricular hemorrhage, bronchopulmonary dysplasia, and retinopathy of prematurity, according to the study published in JAMA Pediatrics. Asian premature infants were also more likely to suffer from retinopathy of prematurity.
Lead author of the study and assistant professor at the Icahn School of Medicine at Mount Sinai in new York Teresa Janevic explained to CNN that past research indicated that race played little role in premie neonatal health. However, the new study "estimates risk of very preterm morbidities from the vantage point of all pregnancies, and therefore better captures population-level disparities," she said. The new findings suggest that premature birth risks do indeed vary by race.
Janevic went on to explain that the findings about black and Hispanic infants were not surprising, given that these babies are more likely to be born extremely premature. Lower quality of hospital care for minorities may also play a role. But not everything uncovered by the study was expected:
However, the magnitude of the disparities is striking. Also, we were somewhat surprised regarding the finding of increased risk of retinopathy of prematurity among Asian very preterm infants, a finding that needs to be researched further to replicate and potentially explain.
Premature infants have immature bodily systems and exposure to the outside world puts them at risk for a number of health risks, according to Today's Parent. Eugene Ng, a neonatologist and chief of newborn and developmental paediatrics at Toronto's Sunnybrook Health Sciences Centre, explained to the outlet that "prematurity is a big spectrum." While babies can survive as early as 23 weeks, anyone born before 37 weeks are considered premature. "The likelihood and severity of any complication would decrease as the baby is born more and more maturely," he said. Common issues include breathing issues, feeding trouble, eye problems, infections, and brain injuries, Today's Parent reported.
The exact cause of premature birth remains largely unclear, but some risk factors influence premature delivery. Contributing factors listed by Mayo Clinic include a history of premature birth, pregnancy with multiples, going less than six months between pregnancies, conception via in vitro fertilization, smoking cigarettes, and stressful life events. However, many women who experience premature birth have no known risk factors at all.
Despite their resulting health risks, many premature babies are healthy enough to go home shortly after birth, according to March of Dimes. Most babies are released from the NICU once they weigh at least four pounds, can keep their body temperatures up without the help of an incubator, can breast or bottle feed, gain weight regularly, and can breathe unassisted. Upon release, some premies require special equipment, treatment, or medication. Individual providers and medical staff can be determine what is needed to help your child thrive.
Understanding of the risks and factors associated with premature birth is an important part of keeping children healthy and reducing rates of infant mortality. Learning how race plays into these risks helps parents to be informed and prepared for what could come.