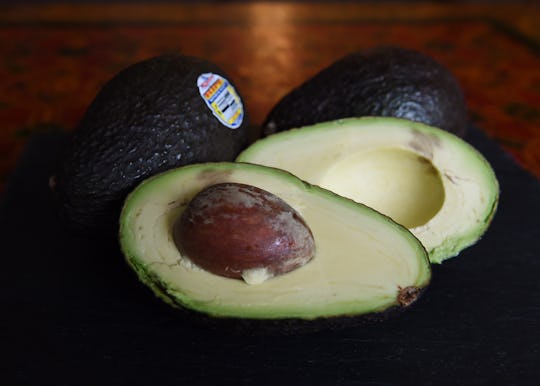 MARK RALSTON/AFP/Getty Images
New Research Says Avocado Is A 'Must-Eat' For Pregnant Women
Paying extra for avocado has never been an easier decision. We already know that avocados give us smooth skin, strong nails, flowing hair, and they taste divine on almost anything and even better on their own. Avocado's many benefits have now extended to future moms-to-be as a new study says avocados are a must-eat for pregnant women. Packed with tons of minerals, antioxidants, vitamins, avocados might now be the perfect food for pregnant women.
The new study, published in Nutrients this week, says that avocados are a "unique nutrition source" for both pregnant and lactating women and from all of their nutritional value they should be "considered for inclusion in future dietary recommendations for expectant and new mothers." The new research is part of a broader project to change the nutrition guidelines for pregnant women and children under two years old.
"There is growing evidence suggesting that maternal antioxidant intake is an important factor in reducing the risk for abnormal pregnancies and birth defects," the study reads. "Therefore, the intake of foods such as avocados — which which have the highest recorded lipophilic antioxidant capacity among fruits and vegetables — may also assist fetal and infant health in ways which have yet to be discovered."
The researchers did admit, however, that avocados need to be studied further on how they should be directly included in the USDA food recommendations.
But the research says there are many benefits during pregnancy that can be gained from eating avocados.
"Avocados offer a range of beneficial nutrients that can make a substantial contribution to a nutrient-rich diet when offered as a staple food for the periconceptional period, as well as during pregnancy and lactation," the study reads.
The study also mentions avocados can change the flavor profile in breast milk. The vitamins and fatty acids in avocados can change the composition of the breast milk and has been associated with flavor preferences in infants.
"These early flavor experiences may help explain why infants who are breastfed tend to be more willing to try new foods, which may contribute to greater fruit and vegetable consumption later in life," the study reads.
Pregnancy tends to put a lot of things off-limits and comes with plenty of worries and uncertainties, but eating well is one of things that moms-to-be can completely control and having avocados on your side makes it a bit easier. So, open up your favorite cook book or recipe blog and feel free and healthy to add avocado to anything and everything you'd like.