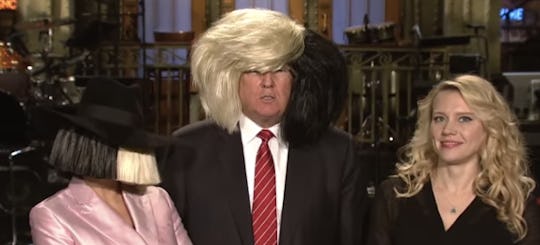 New 'SNL' Donald Trump Promos With Sia Mock (What Else?) The Presidential Candidate's Hair — VIDEO
Just in case you didn't realize Donald Trump was hosting Saturday Night Live this weekend, NBC is here to remind you with another set of promos. Or not, because if you didn't know Trump was hosting this weekend, then you either a) literally live under a rock, b) are not human and therefore not capable of using opposable thumbs to look at the Internet or turn on the TV, or c) both. But if you are a human, then enjoy and watch the new Trump SNL promos, which come with an added incentive this time around: Sia!
Inevitably, get the interestingly coiffed Sia and Trump in the same room, and that only means one thing — hair jokes. And that's exactly what those who watch the promos will get, with some assistance from cast member Kate McKinnon. (See above.) Is it too much to hope that SNL will avoid poking fun at Trump's appearance this Saturday and instead skewer his flawed political platform?
And, to some, it's too much that SNL is welcoming Trump in the first place. Despite protests surrounding Rockefeller Center and Studio 8H (where SNL is shot), and dozens of Latino artists denouncing NBC's decision to have Trump host in a statement, it seems as though the show will go on. 
As for how Trump himself will fare after his SNL stint? Well, if this SNL guest could survive, really, anyone could, right?
Image: NBC; Giphy