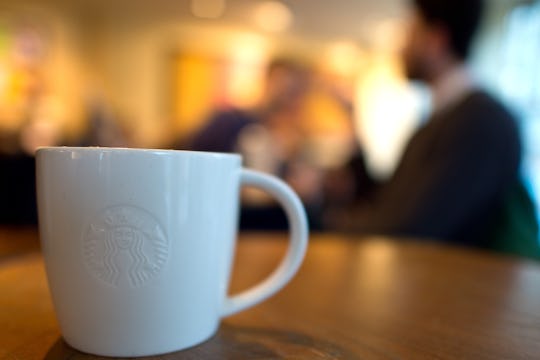 Ben Pruchnie/Getty Images News/Getty Images
A New Starbucks Holiday Latte Is Here & It Tastes Like A Christmas Tree
For some people, it's not really the winter holidays until you see what limited-edition festive seasonal coffee drink is being brewed up for the month of December. Well, Starbucks' new holiday latte lets you know that it's beginning to taste a lot like Christmas, and I can't wait to give it a try.
The new offering for 2018 is a Juniper Latte, according to PopSugar, adding to a past collection of Starbucks holiday drinks that include the Peppermint Mocha, the Gingerbread Latte, the Toasted White Chocolate Mocha, the Caramel Brulée Latte and, don't forget, the Chestnut Praline Latte. (I take my holiday coffee drinks seriously, OK?)
The Juniper Latte was inspired by a concoction created last year exclusively for the Starbucks Reserve Roastery in Seattle, the chain's home, according to PopSugar. The new brew is made up of Starbucks signature espresso, steamed milk, and a custom juniper-flavored syrup, inspired by the evergreen tree of the same name that produces small blue berries, the website noted.
The beverage is then topped off with creamy foam and a dash of pine-citrus sugar, Starbucks noted in a news release. Ahhh. All you'll need is a fireplace and maybe some pine cones for a warm winter's day of relaxation.
Starbucks released the new drink on Nov. 27, which will be order-able in the United States and Canada for a limited time while supplies last. And on Dec. 1, Starbucks will donate 20 cents for every latte purchased in participating stores, including the juniper, in honor of World AIDS Day, according to the news release, which added that the new drink has subtle notes of citrus and sage.
It's always fun to grab whatever's the new holiday drink and take a break to enjoy the crisp weather as people bustle around you, on the hunt for gifts. And it's even better when you're able to do so and support a good cause.
It's also always sad when January rolls around and your local Starbucks stops serving the extra-fancy stuff (sniff)... but then there's the always the end of the next year to look forward to. The chain does really well at decorating its franchises and offering holiday gift baskets, I think, in addition to the special coffee orders, which makes stopping in for coffee more festive.
I know I'm not the only one who feels this way about my Christmas caffeine, either, judging by the out-the-store lines that form at my local Starbucks come winter.
Even some big stars appreciate a good Starbucks run. InStyle tabulated which Starbucks drinks which Hollywood stars order (Katy Perry likes a vanilla soy latte) before giving us First Daughter Ivanka Trump's signature Starbucks drink at her local D.C. franchise: A nonfat vanilla latte, no whip.
Shape magazine got even more in depth about the fact that some stars, such as Christian Bale, use a real name when ordering Starbucks brew instead of a pseudonym... something I never even considered a celebrity might need to do to escape the coffeehouse undetected by nosy fans.
Whatever your Starbucks preferences are, it's fun to know there are extra choices during this time of year, but, like the holiday season, they'll only be around for so long.
This first-time mom wants to have a home birth, but is she ready? Watch how a doula supports a military mom who's determined to have a home birth in Episode One of Romper's Doula Diaries, Season Two, below. Visit Bustle Digital Group's YouTube page for the next three episodes, launching every Monday starting November 26.