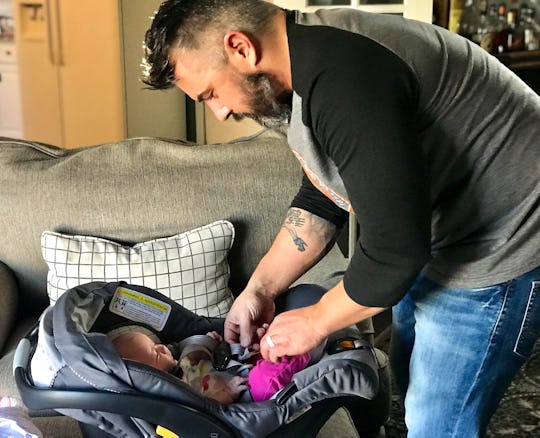 Courtesy of The Ohio State University Wexner Medical Center
Study Finds Further Proof That Rear-Facing Car Seats Are The Safest Way To Drive With Your Baby
As most parents already know, rear-facing car seats provide the most protection for your baby. They've been proven to be the best way to protect babies from front and side car crashes. In fact, it's illegal to drive with a child under 2 years old in a forward-facing car seat in many states across the United States. That being said, many parents may also be curious about how well a rear-facing child restraint system could protect a baby in a rear-end car crash. Luckily, a group of researchers recently wondered the same thing, so they administered a study — and it serves as further proof that rear-facing car seats are the safest way to keep your baby protected while riding in a car.
The study was led by research engineer Julie Mansfield, along with a team of researchers at The Ohio State University Wexner Medical Center, according to a press release sent to Romper. For the study, which was published in SAE International, Mansfield and the team obtained and four different models of rear-facing car seats. They properly installed the car seats and then conducted 12 rear impact crash tests of moderate the severity with dummies strapped into the car seats, measuring how each crash would affect each body part.
They measured how the crash affected dummies by outfitting them with devices including head and chest accelerometers, head angular rate sensors, and six-axis upper neck load cells, as detailed in the study's manuscript.
The team actually found that every car seat they crash tested would be effective in keeping a baby safe, because, according to the press release, "they absorbed crash forces while controlling the motion of the child, making rear-facing car seats a good choice in this scenario."
Romper spoke with Mansfield via email, where she further explained the results of the study:
We found that the rear-facing car seats protected the crash test dummy well when exposed to a typical rear impact. The car seats supported the child throughout the crash and still did their job to keep the head, neck, and spine aligned. A lot of the crash energy was absorbed through the car seat interacting with the vehicle seat, so that reduced the amount of energy transferred into the occupant. This is important in preventing injuries.
She also explained some of the specific benefits of a rear-facing car seat, namely for children under 2, telling Romper:
Rear-facing car seats support the head, neck, and spine of the child. They help to keep these vulnerable body regions supported and aligned during a crash. This is especially important for children under age 2, whose spines are not fully developed yet.
Manfield also shared some more insight on why her team chose to conduct this experiment. She explains to Romper:
Parents and caregivers often understand that a rear-facing car seat will support the head, neck, and spine during most car crashes, but we rarely talk about what happens during a rear impact (ie, when a vehicle is stopped and gets rear-ended). In this scenario, occupants in the vehicle would feel "pulled" to the rear of the vehicle by the forces in the crash. Caregivers are sometimes concerned about rear-facing children in this type of crash. Injuries to children in this scenario are rare, but we wanted to run some crash tests so we could see exactly what was happening.
As the study's manuscript notes, rear impact crashes are both less common and less deadly than other types of crashes (like front crashes and side crashes). Because of this, there is less data about how to keep babies and children safe in a rear impact crash. However, just because rear-impact crashes are less common and less deadly than other crashes doesn't mean that they don't need to be analyzed. The results of this new study are therefore super important, as caregivers can rest easy knowing their child is as safe as can be in a properly-installed rear-facing car seat.
So, when shopping for rear-facing car seats, what should new parents keep in mind? "Children will always get the best benefit of a car seat when it is properly installed and used correctly on every trip," Mansfield tells Romper. "We recommend that parents attend a car seat check, where a certified professional will provide hands-on guidance for proper use of their seat." She notes that car seat checks are usually free in the United States. (Click here to look up local resources.) Mansfield explains that these checks can be especially helpful to new parents, as the technicians will work with you to choose the best spot in the car to install the car seat, go over miscellaneous safety tips, and more.
Keeping your baby safe is always a number one priority for new parents. It's great that there is now further evidence that rear-facing car seats can help with that priority, especially during those first two years of life.
Check out Romper's new video series, Bearing The Motherload, where disagreeing parents from different sides of an issue sit down with a mediator and talk about how to support (and not judge) each other's parenting perspectives. New episodes air Mondays on Facebook.