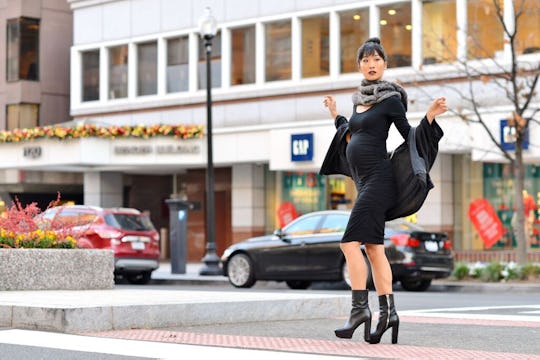 New Subscription Maternity Clothing Service Aims To Answer Your Pregnancy Outfit Prayers
A revolution in maternity style has begun, thanks to Christa Floresca, who founded Bella Gravida, a subscription maternity and nursing clothing service. Launched in later 2014, Bella Gravida promises to have pregnant women feeling and dressing like themselves, without having to pay an enormous amount of money. And as an added bonus, you can even try your first month for free.
Bella Gravida is a service that "gives pregnant and nursing women a chance to get designer clothing, but at an okay expense," says Floresca. A woman can sign up for a plan and pay a single monthly fee based on the number of styles she'd like to have in her home at any one time. Because of this revolving nature, Floresca refers to the service as a subscription wardrobe; it is not simply a box of clothing that arrives on your doorstep once a month. It's something much better.
Since Bella Gravida is a rent-per-month and not a rent-per-garment service, you're able to get a lot more bang for your buck. Although you have the same number of pieces in your closet for a full month, you can swap out the actual articles as often as you like. Absolutely love a particular shirt? Keep it all month and wear it once a week. Got a dress to wear to another baby shower but don't need it again? Wear it once, then send it back and receive a something different in exchange.
The benefits to renting maternity clothing are manifold. First of all, you're only going to be pregnant for nine months, so anything you buy won't be a long-term investment. And even if you do get pregnant again, you may be at different parts of your pregnancy during different times of the year. That maternity sundress is not going to do you much good in January. And do you really want to walk around the mall when you're pregnant and your feet hurt?
But perhaps even more enticing than the rental element is the fact that Bella Gravida's selection doesn't sacrifice style for convention. Just because you have to accommodate an expanding belly doesn't mean you should have to forgo your sense of fashion. And that's why it was so important to Floresca to crete this service.
Floresca has been a long-time lover of subscription clothing services, and has expanded her wardrobe through this method for years. "I love that I don't have to buy anything," she says. "And there's always something new to wear." When Floresca became pregnant at age 40, she immediately searched for an identical service for maternity clothing, but was unable to find one. And even without the benefits of a subscription mailing, she still was not a fan of the maternity clothing she was seeing.
"I wanted to look like myself, but I was pregnant" she recalls. "So much of my self-esteem is connected to how I look and feel." She didn't want to wear frumpy clothes or leggings simply because she was with child. But she also couldn't afford to replace an entire designer wardrobe with a child on the way. (In case you haven't heard, kids are expensive.)
And thus, the idea sparked to create Bella Gravida, and Floresca started to set all the plans into motion during her pregnancy. Bella Gravida officially launched less than one year after her daughter was born. (Talk about a busy time in your life!)
For pregnant and nursing women, Bella Gravida is a great way to hold on to who you are and to how you express yourself in clothing, even as your body changes. It's convenient, affordable, and flexible, with plans ranging from one style a month to seven styles a month. And before you commit, you get to try a full month for free. But chances are, you'll love it so much, you'll stay on for at least eight months more.
Images: Gear Communications