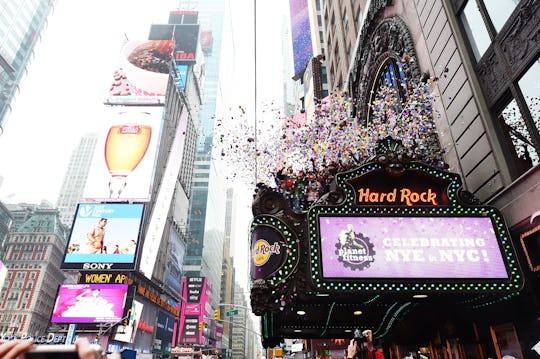 New Year's Preparations In Major Cities Include Serious Security Measures After Recent Terror Attacks & Threats
As New Year's Eve quickly approaches, many are planning to enjoy the night in a big city. Though recent terror threats will cause some to opt to stay home, those who are going out can rest assured that police are committed to keeping people safe during the celebrations. A number of cities are increasing security for New Year's festivities. New York City, for example, is taking several New Year's precautions to protect more than a million people expected in Times Square.
On Wednesday, NBC News reported that about 6,000 police officers will take to Times Square for New Year's Eve. In addition, hundreds of cops will be there wielding long guns, radiation detectors, and bomb-sniffing dogs. "We are not aware of any threat at this time that we deem credible," Police Commissioner Bill Bratton said on Tuesday, according to NBC. Chief James Waters, leading the New York Police Department's counterterrorism operation, echoed Bratton's statements:
We are very, very confident that New Year's Eve in New York City will be the safest place in the world to be.
And authorities have a lot to prepare for. On Wednesday, Belgian authorities arrested two people who were planning attacks throughout the capital during New Year's celebrations, according to CNN. The two men were allegedly members of the Kamikaze Riders biker gang and were inspired — not directed — by ISIS. Though their identities haven't been disclosed, counterterrorism officials said the pair had ample access to weapons.
The NYPD has spent months planning for the night. CBS News also reported that the police department and the FBI are working together to protect partygoers, with things such as checkpoints and a 500-member Critical Response Command team unveiled two months ago. However, officials are also asking for the public's diligence for New Year's and otherwise. "We continue to ask everyone to remain aware of their surroundings & report any suspicious activity to police," FBI New York tweeted prior to the holidays. In addition to staying observant, the NYPD tweeted that backpacks and duffels are not permitted in Times Square on New Year's.
And this request isn't just being made in New York City. Las Vegas police also requested people leave backpacks, bulky bags, and strollers home for New Year's Eve as they estimate about 320,000 will take to the city to celebrate, the Las Vegas Sun reported. "We can't mandate it," Sheriff Joe Lombardo said, but "we're asking everybody to cooperate." While they are expecting people to comply on the backpack rule, the Las Vegas Metropolitan Police Department released a statement Tuesday saying it would employ the use of drones:
It is illegal to fly an unmanned aerial vehicle (UAV) within 5 miles of an airport without the airport authority's permission. Due to the Las Vegas Strip being within 5 miles of McCarran International Airport, the LVMPD will be looking for violators who are flying UAVs along the Las Vegas Strip during the New Year's Eve celebration.
Several New York City agencies are using Twitter to assure everyone that they are committed to keeping New Yorkers and tourists safe. Not only have they used the platform to keep people in the loop about preparations, but New York Mayor Bill de Blasio voiced confidence in the police department's training and skills. "On New Year's Eve, the department will be out in force. There will be a tremendous number of officers you will see and many you won't see," he said at Tuesday's press conference, according to NBC. "The eyes of the world will be on us. We're ready."
Image: Nicholas Hunt/FilmMagic/Getty Images