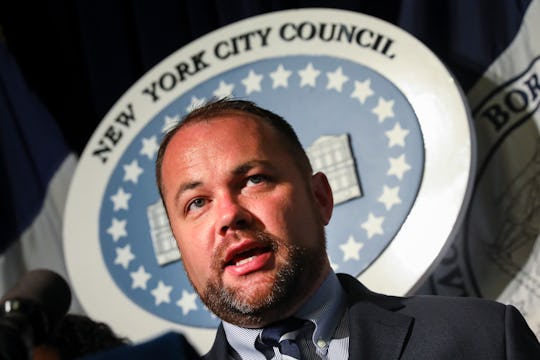 Drew Angerer/Getty Images News/Getty Images
New York City Will Now Offer A Third Gender Option On Birth Certificates
Federal legislation continues to grow increasingly hostile to LGBTQ citizens, but local authorities are still making progress. On Wednesday, the city council voted overwhelmingly in favor of a bill that will add a nonbinary option to New York City birth certificates, allowing people to use an "X" as a third gender designation. Adults will be able to change the gender reflected on their own birth certificates, and parents may also choose to designate their children as a third gender at birth. Mayor de Blasio is expected to sign the bill, according to NBC New York, and it will go into effect on Jan. 1, 2019.
Previously, the gender designation on New York City birth certificates could only be changed with permission from a doctor. Petitioners were required to provide an affidavit from a medical professional stating that they had undergone medical intervention to confirm their gender. In 2014, the city adopted a new policy that allowed transgender New Yorkers to change their birth certificates without having to "prove" that they met any arbitrary physical requirements. Now, the city further affirms its citizens' right to self-identify, officially recognizing that male and female are not the only gender identities. It's nice to hear some good news for once!
The availability of a third gender option on passports and driver's licenses has been gaining traction, but it's especially important to provide it on birth certificates, as the data on those documents often dictates what's legally allowed on others. "Without these documents, transgender people are left to present incorrect ID," said then-Councilman Corey Johnson, who sponsored the bill in 2014, according to the New York Daily News. That can lead to them "becoming subject to harassment, discrimination, accusations of fraud, and oftentimes being turned away from receiving vital public services," he explained.
Johnson is now City Council Speaker, and continues to fight for his LGBTQ constituents. "Today is a historic day for New York in its role as a worldwide champion for inclusivity and equality," he said on Wednesday, according to the Associated Press. "New Yorkers will no longer need a doctor's note to change their gender on their birth certificates, and will no longer be treated as if their identity was a medical issue." Johnson stressed that it was important for the city "to show our constituents that we see them, we have their backs, and we respect them for who they are."
Unfortunately, Johnson's jurisdiction ends at the city limits, and only people who were born within them will be able to amend their birth certificates under the new legislation. The federal government doesn't issue or even maintain files of birth certificates, instead leaving it up to individual states, cities, counties, and other local offices. A complete overhaul of the way gender is recognized and legally affirmed will take a lot; according to a 200 report by the Department of Health and Human Services' Office of Inspector General, there are over 14,000 different versions of birth certificates in circulation in the United States, issued by well over 6,000 different local entities.
As such, there's no centralized database, and it's impossible to know for sure how many local governments offer a third gender option, but honestly, if you haven't heard about it, it probably hasn't happened yet. New York is the first city to amend its gender policy, but three states also began offering a nonbinary choice on their birth certificates in the past year. Beginning in January, Oregon now offers three gender designations, as does the state of Washington. California was the first, passing its bill last October, although the state's website still espouses some pretty troubling, retrograde ideas on gender identity. But hey, any progress is good, right? Four down, 6,418 to go.