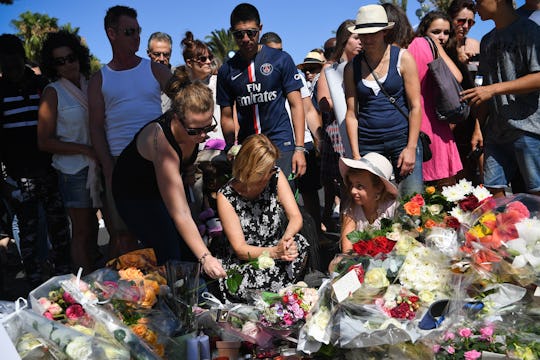 David Ramos/Getty Images News/Getty Images
Newspaper Front Pages After The Nice Attack Reveal The Pain It Left Behind
Tragedy struck in Nice, France, Thursday evening when a driver of a truck drove through crowds at a Bastille Day celebration, injuring dozens of people, and killing at least 84, a death toll reported as of Friday morning, according to the BBC. It's an unspeakable horrific tragedy, and newspaper front pages after the Nice attack, show just how terrible the incident was. French President Francois Hollande referred to Thursday evening's attack as a terrorist act, though no organizations have claimed the attack, according to reporting by The Atlantic.
A Vox report transcribed Hollande's statement following the attack, where he called for a fight against "the scourge of terrorism."
The "terroristic character" of the attack "cannot be denied," Hollande said, according to Vox. "It is clear that we must do everything we can to fight against the scourge of terrorism. France was hit on the day of her national holiday, the 14th of July, symbol of liberty, because the rights of man are denied by fanatics and France is inevitably their target."
News organizations and French police forces have identified the attacker as a 31-year-old Tunisian-French man, The New York Times reported.
The front page of a French publication, Le Figaro, features French officials and the bullet-riddle truck the attacker drove through the crowd. CNN reported that Pierre-Henry Brandet, a spokesperson for the French Interior Ministry, said the driver was shot and killed by police, and that the truck reportedly held firearms, explosives and grenades.
Another French publication, Le Monde, features a man sitting on the street, grieving next to, what appears to be, a victim of the attack.
La Provence, featured the chaotic and tragic scene after the deadly attack, with bodies covered in white sheets on the street. Its headline read "L'Horreur" or "The Horror," in English.
A word translated in English as "deadly" made the front page of La Voix Du Nord, with a photo of the truck, and police officials.
Many other publications, in France and other nations, dedicated its front pages to the tragedy.
It's a tragic time, as many around the world mourn the victims who lost their lives in the deadly attack. President Obama released a statement regarding the attack Thursday evening, including a message of France's resilience (the full statement can be found here:
On this Bastille Day, we are reminded of the extraordinary resilience and democratic values that have made France an inspiration to the entire world, and we know that the character of the French Republic will endure long after this devastating and tragic loss of life.