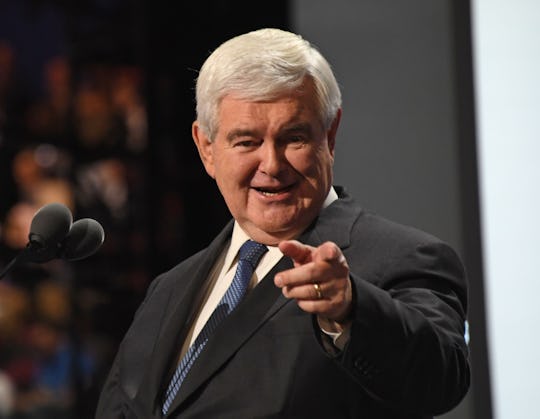 JIM WATSON/AFP/Getty Images
Newt Gingrich Scolds Alicia Machado For Past Weight Fluctuations & It's Deplorable
Republican presidential candidate Donald Trump isn't the only man who has publicly criticized a former Miss Universe about her weight. Defending the GOP nominee's deplorable body-shaming attack on the pageant winner from 1996 on Wednesday night, former Speaker of the House Newt Gingrich reportedly scolded Alicia Machado about her past weight fluctuations while speaking to the Log Cabin Republicans at a dinner in Washington. According to Politico, Gingrich told the audience, "You're not supposed to gain 60 pounds during the year that you're Miss Universe."
The insensitive comments that Trump had initially made about Machado's body first made their way back into the spotlight following Monday night's first presidential debate. Democratic presidential candidate Hillary Clinton called out her rival for his long history of similarly misogynistic remarks about women, including one instance in which he reportedly called Machado "Miss Piggy" (Machado had reportedly gained weight after winning the beauty pageant, which she claimed was the result of emotional stress) and "Miss Housekeeping," which was a dig at her Hispanic heritage as she had represented Venezuela in the 1996 competition.
"Donald, she has a name. Her name is Alicia Machado," Clinton said at the debate on Monday night. "And she has become a U.S. citizen and you can bet she is going to vote this November." According to a recent interview with Cosmopolitian, the 39-year-old former Miss Universe told the magazine that she became an American citizen this past August just so she could vote against Trump.
In response, Trump seemed to question Clinton on her accusations. "Where did you find this?" he asked. The day after the debate, in an attempt to shift the spotlight, Trump spoke with Fox & Friends, calling Machado the "absolute worst." A few hours later, Trump bragged in an interview with Fox News' Bill O'Reilly that he "saved [Machado's] job" because he said she "gained a massive amount of weight" and "it was a real problem."
"This is a person ... she did not do well," Trump said while speaking on The O'Reilly Factor Wednesday evening. "She had a lot of difficulties and, you know, they wanted to fire her ... The company itself wanted to fire her. I saved her job ... I said, 'Don't do that. Let her try and lose the weight.'"
He continued, "I saved her job, because I said [firing her was] going to be ruinous and I've done that with a number of the young ladies, where I save their job. And look what I get out of it. I get nothing."
Gingrich chimed in on Wednesday night as well and piggybacked on Trump's weight-based attacks.
"You're not supposed to gain 60 pounds during the year that you're Miss Universe," Gingrich said. "Not fair. Even my act of saying that is sexist and proves I'm not being sensitive." As you can see in the video below, his comments were met by laughter from the audience.
Understandably, Gingrich's remarks about Machado quickly came under fire on social media:
Trump's long track record of reportedly misogynistic behavior is certainly no secret at this point — Machado's story and comments from Trump's many backers (including Gingrich) only serve as a reminder to some voters of that glaring fact.