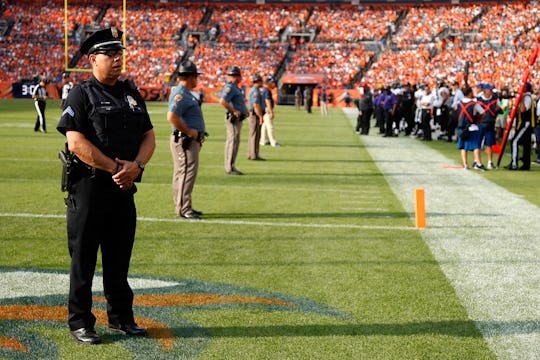 NFL, New York Strengthens Security Following Paris Attacks, So Should We Be Worried?
After over 120 people were killed and over 350 wounded following the Paris terrorist attacks Friday (for which ISIS claimed responsibility) the U.S. is increasing security measures to ensure an attack doesn't happen on American soil. The National Football League announced an increased security presence at all games over the weekend, while New York Gov. Andrew Cuomo said he was directing officials in the State Police, MTA, and more to be extra vigilant following the attacks. But should we be worried about an attack in the U.S.?
Based on reports, there is no immediate threat of an attack on the U.S. Though CNN reports that French police aren't sure if all the assailants have been caught (seven known assailants were killed following the attacks), Homeland Security's Jeh Johnson said:
At this time, we know of no specific or credible threats of an attack on the U.S. homeland of the type that occurred in Paris tonight.
That said, Johnson also said Homeland Security is monitoring the events.
But the NFL's and Cuomo's measures make sense. After all, the attacks in Paris occurred nearby the Stade de France, where France was playing Germany in a friendly match. (French President Hollande was present at the event.) So nearby, in fact, that a Vine from inside the game captured the sound of an explosion that could be heard outside the stadium. And considering one of the suicide bombers may have been stopped from entering the stadium prior to the attacks, it's easy to think a stadium might be a target.
And as for New York? Well, anyone who lived through 9/11 would understand why Gov. Cuomo would want to beef up a security presence.
That said, Gov. Cuomo in a statement maintained that the measures were purely "precautionary."
The safety of New Yorkers and our state's visitors is our number one priority, and we are remaining vigilant and in close contact with local and federal officials and our partner law enforcement agencies.
When claiming responsibility, ISIS said that attacks would continue for France's allies, of which there are many following the attacks.
France and those who follow her voice must know that they remain the main target of Islamic State and that they will continue to smell the odour of death for having led the crusade, for having dared to insult our prophet, for having boasted of fighting Islam in France and striking Muslims in the caliphate with their planes.
Following the attacks, President Barack Obama condemned the violence, and said, "we stand prepared and ready to provide whatever assistance the people of France need to respond." Earlier on Friday, U.S. officials confirmed it had launched air strikes against "Jihadi John," the ISIS militant who was seen on video executing several Western journalists. Officials claim they are "reasonably certain" they killed Mohammed Emwazi.
Image: Doug Pensinger, Daniel Pierce Wright/Getty