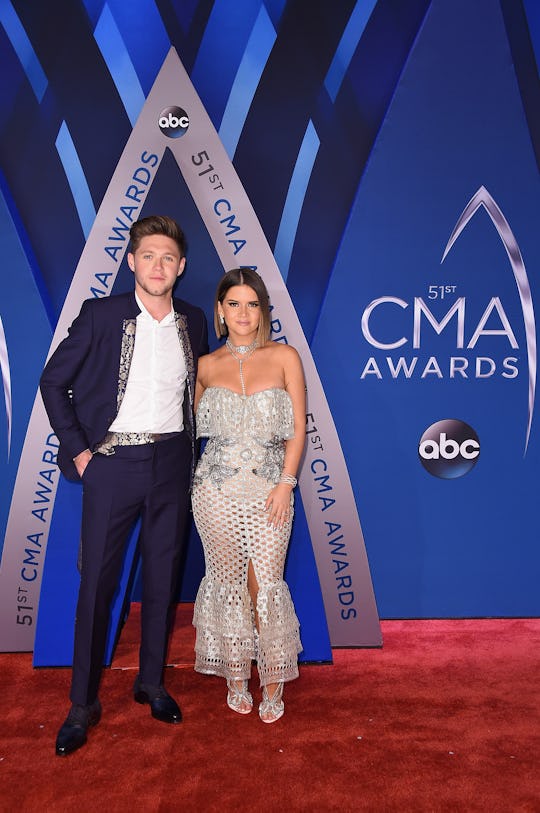 Michael Loccisano/Getty
Niall Horan & Maren Morris Totally Nailed Their CMA Performance
If you're anything like me, when you think Niall Horan, you think, Oh that other guy in One Direction. You probably don't think country music star. Nevertheless, he showed up at the Country Music Awards and boy did he bring his A game. In short, Niall Horan and Maren Morris' CMAs performance was the duet you never knew you needed. Perhaps Horan and Morris should perform more songs together? Make their own country music duet? I don't know, I'm just spitballing here.
At the 2017 CMAs, the two performed an adorable rendition of the song "Seeing Blind," which is off of Horan's debut solo album, Flicker. Once a member of the boy band One Direction, Horan as well as all of his former bandmates, went their separate ways the past year and released their own albums. Personally, I think that Horan's hit single "Slow Hands" was the best of the bunch, but who listens to my opinion anyway? The song he performed at the awards ceremony, however, was not "Slow Hands," it was a track that Morris lent her voice to on the album version. I never thought that an up-and-coming country star could mesh so well with a British former boy-bander. But I guess I was wrong.
In an interview with Billboard, Morris said, "It's definitely a first for me. When Niall approached me last year about being on 'Seeing Blind,' I never saw it exploding the way that it has and getting to debut it on the CMAs." She continued:
He and I were texting yesterday and we both were just freaking out. It was really cool for me to hear that side from him, because I know he's a fan of country music, but for him to really show props and understand how much of an honor it is to play on that stage was so refreshing to me. He's a huge fan of this genre, and he completely gets the weight of getting to debut this song on the CMA stage.
Morris herself is no stranger to the CMA stage. In 2016, she took home the award for New Artist of the Year following her album Hero. During that awards ceremony she performed her song "My Church," a huge hit in the country music world. So Morris already knows a thing or two about this crowd. Horan, however, is a complete newbie to this stage and, indeed, this entire genre of music. Americana, after all, is hardly the Irish-born singer's oeuvre.
He's also new to writing and recording music on his own. In conjunction with the release of his album, he wrote a heartfelt message on Twitter. In it, the pop star said:
I've spent the past year and a half writing and recording this album. It's something that I've worked really hard on and I'm incredibly proud of it. This is the first time I've put my thoughts and emotions on paper and then onto record and it feels really good.
It was the first time the duo had ever performed the song, and they certainly performed the heck out of it. Morris tweeted to her duet partner in October how excited she was about the night, saying that they were "gonna have SO much fun" on stage. Horan responded in kind by replying "Can't wait to share the stage with ya darling." Clearly the duo did have a lot of fun performing the song. Although, they perhaps didn't have as much fun as the rest of us did while watching it. As for me personally, I'm still getting over the fact that I just watched a member of One Direction become a country music star.
Watch Romper's new video series, Romper's Doula Diaries:
Check out the entire Romper's Doula Diaries series and other videos on Facebook and the Bustle app across Apple TV, Roku, and Amazon Fire TV.