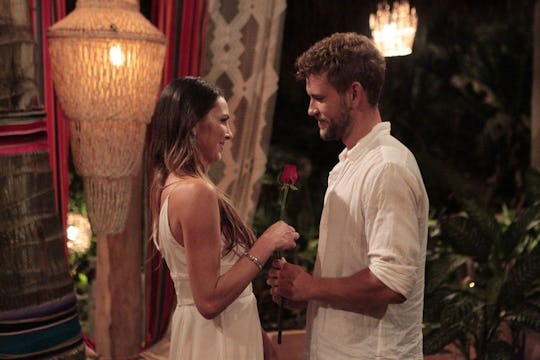 ABC/Rick Rowell
Nick Breaks Up With Jen On 'Bachelor In Paradise', & It Was Heartbreaking
With the announcement that Nick Viall is the next Bachelor, we all saw this coming – but that doesn't mean it was easy to watch. On Tuesday's finale of Bachelor in Paradise, Jen and Nick met on the beach for what could have been their proposal. Instead, Nick broke down in tears because he was not in love with her. Nick broke up with Jen on Bachelor in Paradise, and it was heartbreaking.
Earlier in the episode, we saw two couples – Carly and Evan, Grant and Lace – have happy endings. When Jen and Nick stepped on that beach, though, we already knew it would not end in a proposal. Of course, Jen did not know this – and began proclaiming her love for Nick. She said she knew he had a wall up due to his past, and she knew she came to Paradise later than most, but she was truly falling in love with him. Jen said she's "willing to fall" if Nick was willing to catch her.
This is when Nick started to cry, and we knew this wouldn't end well. He said before Jen arrived, he was ready to leave Paradise – but that he wasn't in love with her, even though he wanted to be. "I feel like you deserve better than me," he said through tears. They hugged it out, but it was over.
Both Jen and Nick were interviewed in their respective car rides out of Paradise. Jen said that she was mad, but she missed him. "I feel like she's going to regret it," she said. "He broke up with me and i still wanna see him." Is this foreshadowing to what's to come on Nick's Bachelor season? Will we see the return of Jen, and will they rekindle what they had in Paradise?
As for Nick, his car ride back to reality was also kind of a bummer. "I feel like I'm incapable of saying 'I love you' to anyone," he said. Could this also indicate something to come on his season? Only time will tell, but Nick and Jen's break-up was still difficult to see, regardless if we knew it was coming.