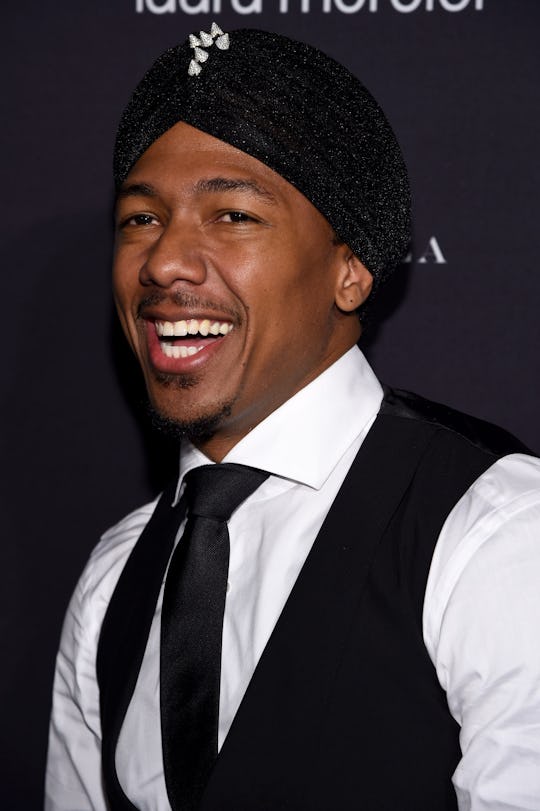 Dimitrios Kambouris/Getty Images Entertainment/Getty Images
Nick Cannon's Photo With His Daughter Reminds Kids That Life "Is Not About Being Pretty"
Nick Cannon's divorce from pop superstar Mariah Carey was recently finalized, marking the symbolic end to what was undoubtedly a painful period in the America's Got Talent host's life. He's just as devoted as ever to the 5-year-old twins the two share, though, and used social media over the weekend to remind families of what's really important: having fun and celebrating one another, together. And Nick Cannon's goofy photo with his daughter shows him doing just that during an outing to the toy store with the kids, as well as reveals the positive values with which the rapper is raising them.
On Sunday, Cannon posted a series of shots to his Instagram account of him at Toys "R" Us with his son and daughter, Moroccan and Monroe. "I tell my daughter to make lots of funny faces... because it's not about being pretty, it's about enjoying life and having a great personality!" he captioned one that features him and Monroe making kissy duck faces and looking like they're having an all-around great time. "I love you Miss Monroe!!"
And even though Cannon makes it clear that he doesn't want his kids to think about looks as they grow up, there's no denying it: Those two are seriously cute.
Of another smiling pic with a curly haired Moroccan, Cannon wrote: "And this dude is all about throwing smiles and catching the ladies!! That apple ain't fall far!! That Boy get it from his daddy and I ain't have to teach it to him!!#Ncredible #Charisma."
E! News reported Nov. 1 that the divorce between Cannon and Carey had been finalized, although they had announced their split in August 2014 and continued to coparent amicably. Throughout the divorce process, rumors circulated that Cannon had been refusing to sign papers, but he has insisted that that's not the case. In a freestyle he dropped in June called "Divorce Papers," Cannon focuses not on marital strife but on his love for his kids, and how the situation may have been affecting them: "We single now but we really need to think about is how a child deals/ how a child feels/ because we got two and they brilliant for real/ resilient for real," he raps, according to E! News.
With his photos of the trip to Toys "R" Us and his message to his daughter that personality is so much more important than beauty, Cannon proved that he is there for his kids and their needs first and foremost.