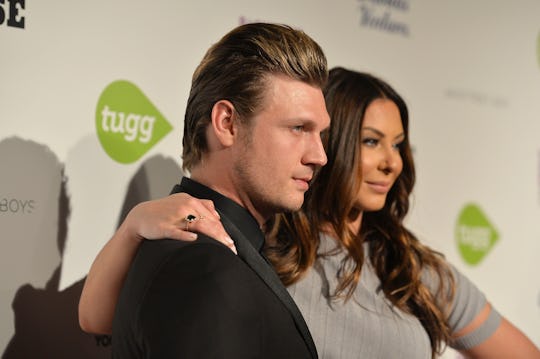 Alberto E. Rodriguez/Getty Images
Nick Carter Revealed His Baby's Gender On 'DWTS' & Fans Are Pretty Psyched About It
It's a boy! Nick Carter and his wife, Lauren Kitt Carter, revealed their baby's gender live on Dancing with the Stars Monday night, and his fans were super pumped about it. The catch? It was a surprise to both parents, too. After the former Backstreet Boy received his scores with dancing partner Sharna Burgess, Nick's wife Lauren was brought on stage. There, the Carters opened a giant silver box with a glittering purple bow, releasing a cloud of blue balloons. "Ah, you're having a boy!" co-host Erin Andrews told the happy couple. "It's a Backstreet boy!"
The fun reveal followed up an awesome night of performances for Nick and his partner Sharna Burgess, including a contemporary dance dedicated to Lauren. Throughout the night, each dancing pair picked an idol to inspire their choreography; and while Nick mentioned that there are many people he admires, he felt that his wife was the obvious choice. "Lauren is the woman that I dreamed of," he said. "She's my savior in a lot of ways." The couple shared their pregnancy story at the beginning of the segment, describing the pain they felt after suffering a miscarriage. Now, after a year of trying, Lauren is 16 weeks pregnant.
On top of Nick's happy baby news, there was this: The performance earned a 10 from all three judges, though Julianne Hough shouted, "I wish I had an eleven!" Bruno Tonioli described the piece as "a love poem perfectly visualized through dance," and Carrie Ann Inaba told the pair, "You took my breath away." The perfect score earned Nick and Burgess a spot in next week's episode. 
 After the show, Nick and Lauren each took to Twitter to follow up on the exciting announcement: 
And it wasn't long before congratulatory tweets started flooding in — including some from a few celebs:
Needless to say, his biggest fans were psyched, too: 
Yep, the Backstreet Boys officially welcomed the Backstreet Baby! No word yet on *NSYNC's reaction.
Images: Alberto E. Rodriguez/Getty Images