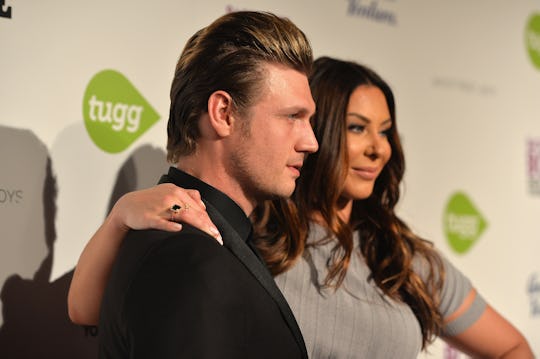 Alberto E. Rodriguez/Getty Images Entertainment/Getty Images
Nick Carter Shares First Baby Picture Of Son On Instagram & Of Course He's Adorable
The newest Backstreet Boy has made his debut and is overwhelmingly adorable. Nick Carter shared the first photo of his son, Odin Reign, via his personal Instagram on Friday, April 29, and the new dad is clearly smitten with his brand new, tiny bundle of joy. Carter's wife, Lauren, gave birth to the couple's first child on April 19 after a 30-hour, at-home water birth. And, although the former Backstreet Boy (who most recently appeared on Dancing With The Stars) previously admitted to being a bit nervous about fatherhood, he seems to be settling into the dad role pretty well.
"I just love how peaceful he is," Carter captioned the baby photo on Friday. "Daddy will be home soon Odin. #babies #love #family." In the photo, baby Odin is loosely swaddled in a soft blanket and looks like he is sleeping soundly with his tiny hands nestled next to his ears.
After the couple revealed they were having a baby boy, Carter told Entertainment Weekly they had chosen a "very strong name" for his son-to-be. Odin certainly seems to fill a very positive and multipurpose role. According to baby name website NameBerry, Odin is the name of "the supreme Norse god of art, culture, wisdom and law...who was handsome, charming and eloquent." And while the baby boy is only a few weeks old, Odin seems like a well-suited name for the newest addition to the Carter family.
As the couple begins their first parenthood chapter, they seem to have nothing but confidence in one and other and have talked about how excited they've been for Odin's arrival. In the same Entertainment Weekly interview gushed about his wife will be the "perfect mother."
"I don't want to get all sappy, [but] she's the reason I felt comfortable, and I knew that she would be the perfect mother," the singer said in the Entertainment Weekly interview. "She would be able to help me teach our child all the things that needs to learn."
Carter's wife, Lauren, said in the interview with Entertainment Weekly that she has been looking forward to seeing her hubby take on the fatherhood role. She said she couldn't wait to see "the unconditional love that he can give to his son and his son can give to him...and the family that he always wanted."
If Carter's Instagram post in any indication to how the singer will fall into fatherhood, it seems like the new dad will fulfill that role completely at ease.