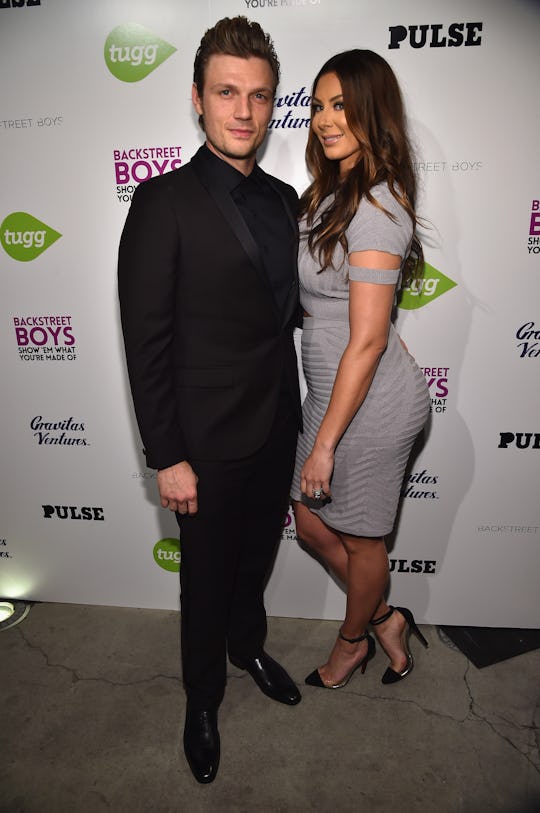 Alberto E. Rodriguez/Getty Images Entertainment/Getty Images
Nick Carter's Wife Gives Birth To A Baby Boy, & Backstreet Fans Are Psyched
A little Backstreet Boy! Nick Carter's wife, Lauren, gave birth to the couple's first child Tuesday, according to Entertainment Tonight. Carter shared the happy news that he and his wife welcomed a little boy following a 30-hour, at-home water birth, and that they've named him Odin Reign Carter. The Backstreet Boy (who most recently appeared on Dancing With The Stars), previously alluded to choosing a "strong" name for his son-to-be, and Odin certainly seems to fit the bill: according to NameBerry, Odin is the name of "the supreme Norse god of art, culture, wisdom and law...who was handsome, charming and eloquent." And, although Carter has admitted to being somewhat nervous about fatherhood, one thing he is clearly not concerned about is how great of a mother his wife will be. He told ET,
I don't want to get all sappy, [but] she's the reason I felt comfortable [having children], and I knew that she would be the perfect mother. She would be able to help me teach our child all the things that he needs to learn.
(Cue the swooning of millions of women's inner '90s teenyboppers.)
According to People, the couple, who married in 2014, announced their pregnancy back in November, and even revealed their baby's gender live backstage during an episode of Dancing With The Stars. In a statement following the show, Nick said,
My wife and I are happy to personally announce that we are pregnant. It has been our dream to have a family together and we cannot wait to welcome our first child into the world.
Despite their obvious joy over Odin's arrival, Carter and Kitt have been open about some of the challenges they faced trying to be parents. Carter told People in November that he and his wife had been trying to get pregnant for a year, and that they had also suffered a miscarriage:
We've been trying to have a baby for about a year now. It's been rocky, to be quite honest with you. There have been times when we thought it wouldn't happen.
And despite her own loss, Kitt shared that the miscarriage was particularly heartbreaking for her husband:
It was really hard on Nick. Just watching him get so excited about something, and see him get so hurt, it was hard.
Like many couples, Carter and Kitt admitted to feeling pretty scared when they got pregnant again and told ET that it took a little while before they could really relax and bond with their baby-to-be. But once they entered the second trimester, they were able to enjoy the prospect of being parents, sharing photos from their gorgeous maternity photo shoot, and celebrating with a Game of Thrones-themed baby shower.
Thanks to Odin's arrival, all of the Backstreet Boys are now also Backstreet Dads (current total kid count: seven!). So did any of Carter's band-mates have any helpful new parent advice? Hmm, not exactly. He told ET,
It's more a warning than advice. Howie and all the guys are like, 'Be prepared, because you're never going to sleep!' It's like they're chuckling on the inside, getting ready to watch me go through some torture that they went through!
(Not exactly helpful, but, uh, pretty darn accurate.)
Congratulations, Nick and Lauren. Now if you'll excuse me, I'm gonna go watch old BSB videos on YouTube and cry over my lost youth and the fact that I never actually got to marry Brian like I'd planned.