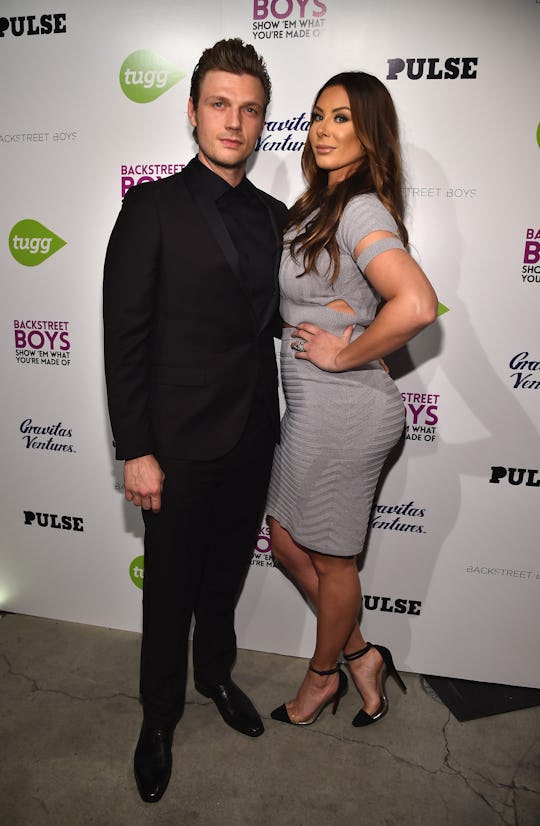 Alberto E. Rodriguez/Getty Images Entertainment/Getty Images
Nick Carter Just Revealed His Wife, Lauren, Suffered A Miscarriage At 3 Months
In some sad news on Monday, former Backstreet Boy Nick Carter and his wife, Lauren, suffered a miscarriage in her second trimester. After struggling to conceive, the pair share a 2-year-old son and were looking forward to adding to their family. Despite the 12 week announcement rule, second and third trimester miscarriages are more common than you might expect.
Carter broke the news that he and his wife, Lauren Kitt, had lost their baby via Twitter on Monday, People reported. "God give us peace during this time. I really was looking forward to meeting her after 3 months. I'm heartbroken," he wrote. In a followup tweet, Carter shared that the baby was a girl. He and Kitt married in April of 2014 and have a 2-year-old son together, Odin Reign, and Carter's tweet about the baby's sex described her as a "sister for Odin."
The news of the couple's loss comes amid Carter's solo tour of South America and Mexico and almost caused him to cancel a show, according to People. He tweeted out, "I don't think I can perform tonight. I'm sorry Lima," before a tweet that announced he would go through with the show, "This will be hard, but for the love of my fans here in Lima I'll be on the stage tonight."
Most families opt to reserve their pregnancy announcement until after the 12-week-mark due to the first trimester's greater risk of miscarriage. Unfortunately, reaching the second trimester does not automatically guarantee a successful pregnancy. A 2007 study of women with a low risk of fetal chromosomal abnormality found the risk of second trimester miscarriage to be roughly five percent. Previous failed and successful pregnancies slightly increased the risk, but overall researchers determined the risk to be significantly lower than the first trimester risk of 17 to 22 percent, according to Miscarriage Research.
Due to the nature of miscarriage, there is little to nothing that women can do to prevent it. But maintaining a healthy diet, getting plenty of exercise, and attending regular prenatal checkups are good steps to take, Health Line reported. If you are particularly concerned, genetic testing prior to conception can help ease worried minds and alert couples to any potential underlying risks.
A number of factors can bring about a second trimester miscarriage, and many cases actually occurred during the first trimester but went undetected at first; these are known as "missed miscarriages." These types of fetal loss don't come with the usual red flags of cramping or bleeding, and can happen to anyone, according to Parents. Unsuccessful pregnancies at any stage are usually caused by chromosomal abnormalities, but other explanations include congenital birth defects, placental problems, cervical insufficiency, drug use, infection, poorly controlled maternal health problems, and abdominal trauma, according to Very Well Family. Despite this long list of potential factors, sometimes the cause of miscarriage is simply unknown.
Carter and Kitt have spoken openly about their struggles to conceive before Odin. In November of 2015 while Carter was a contestant on Dancing with the Stars, he announced Kitt's pregnancy in a pre-taped video package. Along with the good news, the then-father-to-be shared in the video that their year-long struggle to have a baby included a painful miscarriage. "It's been rocky, to be quite honest with you. There have been times when we thought it wouldn't happen," Carter stated before sharing that Kitt was 16 weeks along in her pregnancy at that time.
In the same video, Kitt explained how deeply their loss hurt to Carter, saying, "It was really hard on Nick. Just watching him get so excited about something, and then see him so hurt. That was hard." Knowing that the couple is going through that pain yet again is heartbreaking. Hopefully they will lean on one another and come out of it alright. My thoughts and prayers are with them during this difficult time.