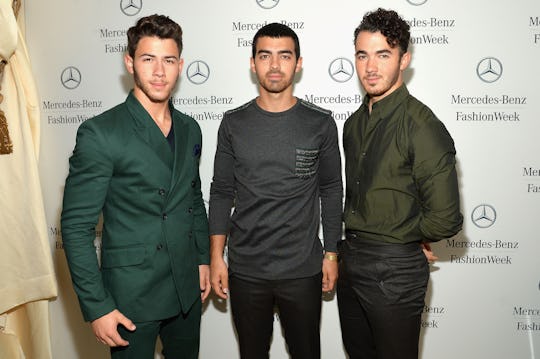 Mike Coppola/Getty Images Entertainment/Getty Images
Nick Jonas Responds To Jonas Brothers' Reunion Rumors
There is nothing like listening to your favorite band from middle school to make you incredibly nostalgic. For me, that was the Jonas Brothers. This month, the Jonas Brothers made waves after their deactivated Instagram account got reactivated, fueling rumors of a reunion tour. But at the Grammy's, Nick Jonas responded to Jonas Brothers' reunion rumors and his response is not going to make fans too happy.
Speaking to E! News on the red carpet, the best-looking Jonas brother (let's be honest, OK) said there is "nothing planned" as far as a reunion, outside of glorious family dinners, I'm assuming. One of those family dinners fueled those rumors, Jonas told red carpet host, Ryan Seacrest on Sunday. Jonas told Seacrest that the Jonas Brothers Instagram account "accidentally" got reactivated and that is what caused the frenzy of the band getting back together. Jonas said:
"We hung out for a weekend altogether and then, I guess our Instagram was restarted or reopened. But I can tell you right now that there is nothing planned but never say never."
It must be hard when your band members are your immediately relatives and "getting the band back together" means going over your mom's house to help her clean out the basement. And when fans are intent on watching your every move, hanging out together is synonymous with "reuniting the band."
The immediate response from fans on hearing Jonas dispel the rumors was parallel waterfalls of tears, wailing, and gifs of devastation.
As much as fans would love to see Kevin Jonas, Joe Jonas, Nick Jonas, and even the Bonus Jonas (that's little brother, Frankie Jonas) in one place, at one time, preferably playing their most famous songs (oh how I would love to hear "Burnin' Up" live again) — that might not happen for a while.
Although Jonas Brothers fans might have been disappointed by Nick's truth bomb, Nick had already shut down the reunion rumors one day earlier, in an interview with W Magazine. Nick didn't rule out a Jonas Brother's reunion completely, but he didn't tell fans to get out their wallets to buy tickets, either. Nick said, in the interview:
"There is a lot of talk of that. I mean, it is not happening right now. Never say never. I think that there is some great things happening in all of our lives individually still and we are all focusing on that at the moment."
Is Nick trying to say that dating Miley Cyrus, starring in Camp Rock and Camp Rock 2: The Final Jam, and being the reigning king of the Disney Channel wasn't the greatest thing to happen in his life? Because I would definitely disagree.
While it might be difficult, fans need to come to terms with the fact that all of the brothers are happy with their lives (hard, I know). Kevin is a father of two, Joe is engaged to Sophie Turner (aka Sansa Stark on Game of Thrones), and Nick is still making music ("Jealous" was such a bop). All of them have a lot going on and they seem really happy with their lives.But the Jonas Brothers' current happiness is not as important as the sheer happiness that fans would receive if they were to go on a reunion tour, right?
The nostalgia for middle school years has come back in full force — from colored hair to chokers being in fashion. So why couldn't the Jonas Brothers hop on that train? Not to mention, Joe basically confirmed in an interview with Marie Claire last year that he and his brothers would come back to do Camp Rock 3. So they're almost there at getting the band back together.
While the Jonas Brothers might reunite at every family gathering for every holiday, fans really just want to see them together, on the stage. Unfortunately, that won't be happening any time soon.
Check out Romper's new video series, Romper's Doula Diaries:
Watch full episodes of Romper's Doula Diaries on Facebook Watch.