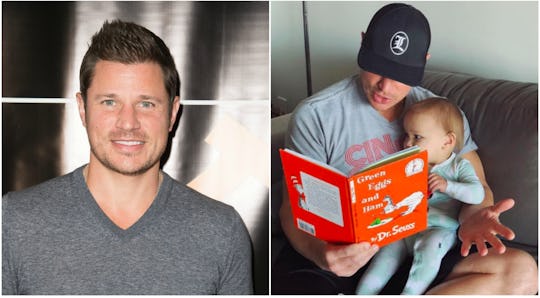 Earl Gibson III/Getty Images Entertainment/Getty Images; Instagram/nicklachey
U.S. Literacy Is Shocking & Nick Lachey Is Doing Something Awesome About It
There are some pretty shocking statistics out there when it comes to literacy in the U.S. Forty-five million Americans read at or below a fifth-grade level, according to Parents. In an effort to raise awareness of this problem, Nick Lachey is helping kids learn to read. For Lachey it starts with cracking open a copy of Secret Pizza Party and extends to involving others in outreach efforts to combat illiteracy.
While many of us picture childhoods filled with cute little book shelves and cozy story-times, literacy rates have long been an issue for adults who missed out on early reading. The literacy rate in the U.S. hasn't improved in a decade, according to the Huffington Post, and the National Assessment of Adult Literacy reported that 14 percent of adult Americans read at a "below basic" literacy level and 29 percent only at a "basic" reading level. These and other shocking numbers are motivation to do something about poor reading levels across the country.
In an attempt to raise awareness, Nick Lachey partnered with the nonprofit The Literacy Project and long-time champion of literacy, Pizza Hut, to read with children at his local elementary school who may miss out on regular story time. Lachey, a father of three, told Parents that reading isn't as commonplace in some homes as it is in his own. Rather than let those children suffer from lack of access to reading material, he took matters into his own hands.
He shared the harsh reality of reading abilities for many U.S. kids with Parents, explaining that early illiteracy can have a lasting effect:
I don't have to overstate how important reading is for your future, but there are statistics that are pretty troubling: 25 million kids can't read proficiently and studies have shown that kids who aren't reading proficiently by third grade are four times more likely to leave school without a diploma. Not being readers, not being literate is such an obstacle for the rest of your life.
Lachey began his service in his own state and with good reason. The situation in California schools have been described as a "literacy crisis." He told Parents:
I went to an elementary school here in the LA area and we handed out some books and I read Secret Pizza Party to the kids. I joked with them that if all my audiences were that enthusiastic, I would be on tour 365 days a year — they were awesome.
But before he was reading to other people's children, Lachey was sharing his love for literacy in his own home. For those looking to do their part to improve literacy rates, reading with your own children is a great place to start. The National Center for Education Statistics (NCES), a division of the U.S. Department of Education, reported a slew of benefits for those children who are read to at home above those who aren't:
Twenty-six percent of children who were read to three or four times in the last week by a family member recognized all letters of the alphabet. This is compared to 14 percent of children who were read to less frequently.
Additionally, children who are read to frequently at home have an easier time learning to count to 20 and writing their own names. They also have higher math scores and are more likely to succeed when reading in school. Despite these numerous benefits, NCES reported only 53 percent of children between the ages of 3 and 5 were read to on a daily basis. Those below the poverty line were even less likely to be read to.
Aside from reading to your own children, there are a number of other ways to get involved. Donating to The Literacy Project is a great option; as are donating books to your local schools and organizations like Housing Works, volunteering in libraries for story time, and getting involved with other charities like Reach Out & Read, First Book, or Milke and Bookies. All of these options allow you to help children and fight illiteracy all at the same time, because there are some things that money can't buy (oh no).
Check out Romper's new video series, Bearing The Motherload, where disagreeing parents from different sides of an issue sit down with a mediator and talk about how to support (and not judge) each other's parenting perspectives. New episodes air Mondays on Facebook.