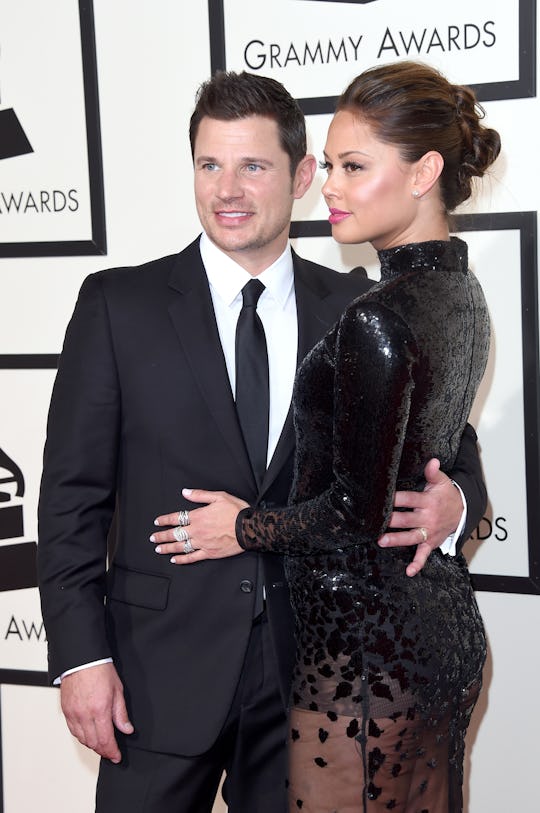 Jason Merritt/Getty Images Entertainment/Getty Images
Nick & Vanessa Lachey Are Expecting Their 3rd Child, & The Announcement Is So Cute
The Lachey family will soon be a party of five! Nick and Vanessa Lachey are expecting their third child together, and they announced the happy news on Instagram Friday, in a beautiful family photo taken in front of their new family home (perfect for a new addition, I'm sure). In the photo, the soon-to-be mom of three can be seen cradling her belly while holding her son Camdem's hand, while Nick stands excitedly holding onto their little girl, Brooklyn. While the picture seems to be announcing the fact that they've moved to new digs (the two kids are both standing atop moving boxes in front of the house), it turns out it also revealed the couple's pregnancy. In a text overlay, the photo reads, "We got a new crib! Now we need a new crib! Newest Lachey arriving spring 2017."
The couple, who have been married since 2011, have been upfront about how much they love being parents, and in June, Vanessa told E! News that she and Nick were definitely open to the idea of expanding their brood. She said,
[Parenting is] busy and it's chaotic, but...it's what I've wanted and it's all I know right now and on top of all of that, I have the most amazing supportive husband.
Nick and I are not the type of people to say 'we're done!' or 'we're going for more!' At this point in our lives, we're super happy and content, [but] if we're blessed with no. 3, it's just going to be that much more exciting. If it happens, it happens!
It sounds like it did happen after all, and honestly, it's already pretty obvious they're going to be the cutest quintet of life. But there's no doubt that the already super busy family is about to get even busier, with three children under the age of 4. But according to Vanessa, the secret all lies in prioritizing. She told Hollywood Take,
Nick and I always put our family first. If you do that, everything else falls into place. If an opportunity pops up that doesn't allow our family life or where we can't be together, then we pass on it. It's all about time management and prioritizing. You can manage your day because you know you're doing everything for your family.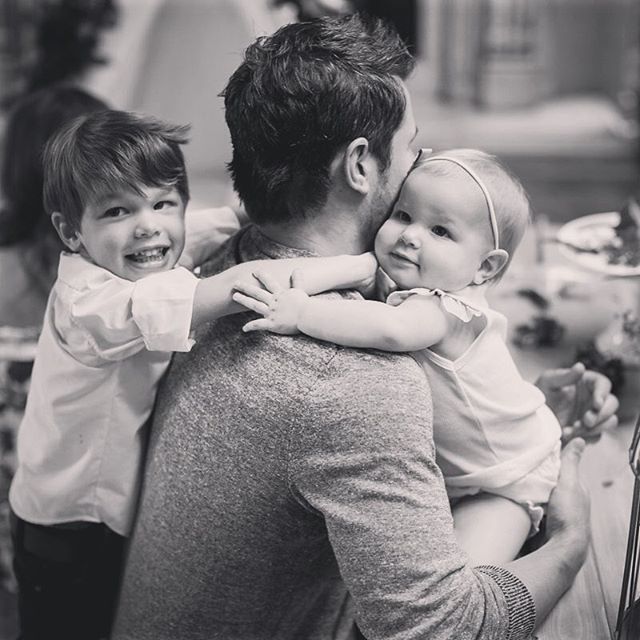 It also don't hurt matters that she considers Nick to be an amazing partner, though. Vanessa told E! News,
I one-thousand percent know I couldn't have done this without him. And that's why I married the guy. It's a partnership and when he's busy in New York, I'm on mommy duty one-hundred percent and when he comes back, we share the duty and when I'm doing stuff he's on daddy duty one-hundred percent.
So, it's just so comforting to have that support system. Every single day I'm grateful for him, but I'm also grateful to the single parents out there who do it. It blows my mind.
And Nick definitely seems to agree. The former boy-bander told Us Weekly that Vanessa is an "incredible" mom to their children, and echoed her sentiments about the importance of putting their marriage first:
Every now and again we'll get a sitter and go out and have a nice dinner. Maybe catch a movie or something. Whether it's during the day or at night, we're firm believers that you have to create some time for each other, and you can't lose sight of that dynamic in your relationship.
Although the couple will have even less time to themselves once their third child arrives, it seems pretty clear that they are super in love and devoted to their growing family. So chances are, one way or another, they'll find a way to make it work.