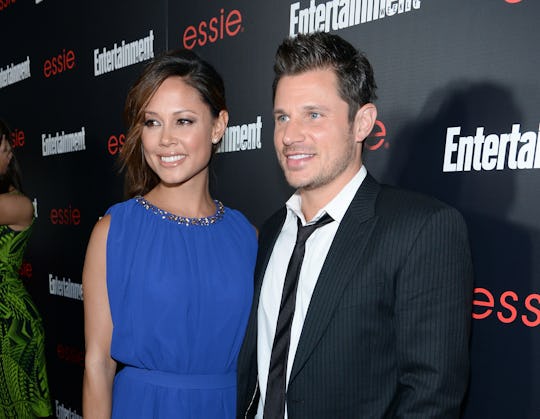 Dimitrios Kambouris/Getty Images Entertainment/Getty Images
Nick & Vanessa Lachey Talk About Life With 3 Kids
Welcoming your first child can bring some major unexpected changes to your relationship with your partner, so it's no surprise that trying to prioritize your marriage while also raising three young kids can often feel like an impossible balancing act. In a recent interview with People for the magazine's annual "World's Most Beautiful" issue, Nick and Vanessa Lachey said life with three kids is wonderful and a lot of fun, but also an awful lot of work.
The Lacheys became a family of five back in December, when their youngest son, Phoenix Robert, was born on Christmas Eve. But while Vanessa admitted to E! News in 2015 that they weren't exactly planning on having more children after their second child, 2-year-old daughter Brooklyn Elisabeth, was born earlier that year, it definitely seems like being parents of three kids suits them well.
Nick told People that both he and his wife have always placed a big importance on family, and that their brood is now "the single biggest priority" for both of them. That doesn't mean it comes easy though: Nick said that having three kids under 5 (their eldest son, Camden John, is 4 and a half years old) means "it's all hands on deck" at home. And as for Vanessa? She said that a good deal of the credit for their success as a family comes down to Nick's involvement:
I say this all the time: I would not be able to do this without an active husband, daddy ... Nick is the reason that we are, I think, sane. He is our foundation. He is our rock. He keeps it together because Lord knows I can't.
Caring for three young, active children is one thing, but maintaining closeness in their marriage while doing it is yet another challenge the couple faces these days. Vanessa admitted that now, they need to know "at least a week in advance" if anyone expects them to be able to make plans that don't involve their kids (parents everywhere are nodding in agreement), and when it comes to having time alone together, Vanessa says that has to be carefully planned as well. She told People that, with three kids, "[there are] no spontaneous date nights," and that she and Nick "have to make a full plan [and] make sure there's nothing with the [kids'] schedules" in order to make sure it happens.
Like a lot of couples raising kids, Nick and Vanessa might not get a lot of one-on-one time with each other. But judging by their Instagram accounts, it's clear that one thing they do enjoy is a fair bit of quality time together with their kids as a family. Earlier this month, the Lacheys spent some time relaxing at the beach for a Spring Break getaway, according to Us Weekly, and shared some super sweet family moments with their fans via their social media accounts.
One of Nick's secrets to keeping his cool as a dad-of-three? He told Us Weekly that, even though parenting is a lot of work, he tries to take it all in stride — especially given that it's entirely possible that things will only get more chaotic in the years to come. He said,
Part of the fun of kids is the craziness, and you've got to embrace that side of it as well. I think the real chaos is going to come in a couple years when he's 2 and Brooklyn's four and Camden's six. … Then I can just imagine it's going to be craziness.
The former boyband heartthrob also said that, while raising three kids might seem difficult, in some ways, each subsequent child feels easier than the last. As Nick explained to People,
I think by the time [you have] your first one, everything is so surreal and you're so precious and paranoid about everything as first-time parents. And then by the second one, you've been down that road once, so you're a little bit more prepared for what's going to come, so you're a little bit more relaxed. And then by the third, I think you let down your guard even a little bit more, but it's all in a positive way.
That doesn't necessarily mean they are jumping at the chance to add a fourth child into the mix, though. Explaining that they are "very happy with [their] three," Vanessa told People that she felt they'd be "really outnumbered" with another baby — not to mention maybe a little overwhelmed:
We personally would have no time for ourselves and life in general, and it just becomes madness. People who do it, I commend them. I applaud them. We respect them, but we're good at three.
Nick and Vanessa Lachey might appear to be yet another celeb couple with a picture-perfect family life (at least on social media, anyway), but it's refreshing to be reminded that they still struggle to balance their family responsibilities just like everyone else. And even though they may not be able to devote as much time and energy to their relationship as they once did, it sounds like they are loving being a young family and five, even despite the inevitable chaos that comes with it.