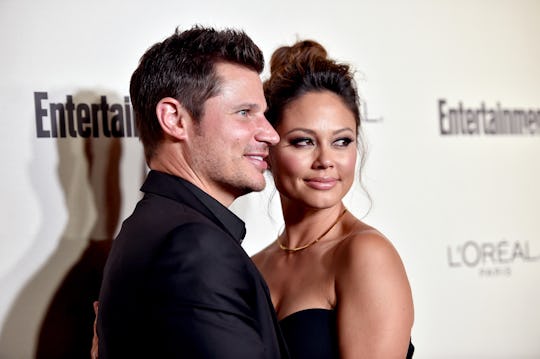 Alberto E. Rodriguez/Getty Images Entertainment/Getty Images
Nick & Vanessa Lachey's Daughter's Back-To-School Photo Will Look Familiar To Lots Of Parents
Celebrity moms commemorate the first day of school like most — sitting the kids down for a picture that will show the world just how ready their little students are to take on the school year. And mom-of-three Vanessa Lachey is no exception. In fact, Vanessa and Nick Lachey's daughter's back-to-school photo was everything. They celebrated their 4-year-old daughter Brooklyn's first day of preschool with, what they thought would be, the perfect #backtoschool shot.
Turns out Brooklyn wasn't having it and the picture speaks for itself. One look at her body language and anyone can tell, she's not too jazzed about the start of the school year. With her head down and legs splayed, she sat next to her super sweet Skip Hop unicorn backpack and the all familiar chalk board sign displaying her preschool stats. (Extra mom points for the use of colored chalk pens.) Not even her knee high socks and bright red bow could perk her up for the first day.
"We're both NOT happy about this!!!" Vanessa captioned the photo shared on Instagram.
Going back to school is tough. After a summer of outdoor adventures, no kids wants to be back in the classroom. But it's an inevitable part of the fall season.
On the flip side, Vanessa's husband, Nick Lachey, posted a much happier pic of their son Camden, and his first day of Kindergarten. He wrote in his Instagram post:
My high & low for today: my son's first day of Kindergarten, definitely a HIGH! Apparently also my last day for public kisses.
The personalities of both Lachey kids really shine in these two photos. And with that, Vanessa has said that their parenting styles are constantly evolving as their children grow and come into themselves. In an interview with Entertainment Tonight, she said:
The hardest part is trying to let them be and navigate their own way through life, but at the same time discipline them because I don't want to let them just do, say or act however. It's hard because they have different personalities, so the way I discipline Camden doesn't work the same with Brooklyn. If I try the same method with her, she'll look at me, like she's laughing and thinking, "You actually think that's going to work with me?"
Heading back to school is definitely an emotional time for parents, and kids. And Vanessa Lachey certainly isn't alone. For example, Kristen Bell recently shared her own back-to-school photo on Instagram with the caption: "Nerd alert!!! The team Shepard loves school!! 🤓🤓🤓" (This was after Bell cried during her daughter's preschool graduation, according to USA Today.)
Busy Phillips also had a hard time dropping her daughter off at Kindergarten and said in her Instagram post: "This person nailed her first day at kindergarten. Her mother has been crying most of the day."
And Chrissy Teigen shared a picture of her daughter looking through a family photo album with a bright red backpack that was almost bigger than her. Teigen's post read:
First week of school 😩 they had us make a little family photo album she can look at when she's sad or upset. she loves it. my heart.
And finally, Melissa Joan Hart shared her sentiments on days without her baby at home. She said in her Instagram post: "Long days without my baby now that he's in kindergarten. 💜"
Most moms can relate. Time really does fly, and once the kids are out the door and into school, the house goes suddenly quite. But don't worry, everything will go back to its normal chaotic ways as soon as the last school bell rings.
Regardless of the back-to-school photo results, parents will have something to remember this special day. Kids will be kids, and parents will be parents which means that the picture snapping won't stop and neither will the cheesy smiles or disapproving pouts.
As for Nick and Vanessa Lachey? They have a many years of first-day-of-school photos ahead of them and it's a sure bet that they'll get better with each take.