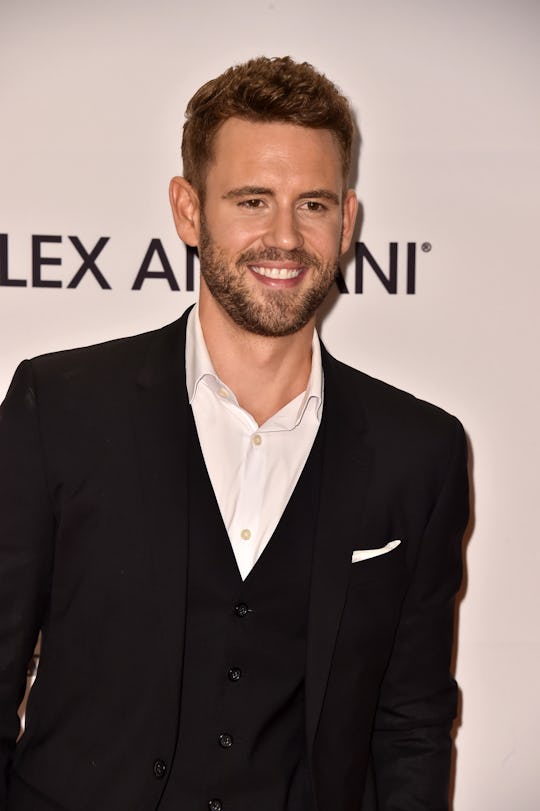 Alberto E. Rodriguez/Getty Images Entertainment/Getty Images
Nick Viall Delivered The Perfect Clap Back About Krystal's Behavior On 'The Bachelor'
This season on The Bachelor, Krystal has emerged gloriously as the season's designated "villain," and everybody is talking about her behavior. Everybody. Even Nick Viall addressed Krystal's behavior on The Bachelor — with a clap back that deserves a dang award. Seriously, I don't think I ever knew Nick could be this funny or self-aware. When Nick was the lead on The Bachelor, the designated "villain" on his season was Corinne, who drove the other women bananas by stealing his attention, throwing herself at him, and just being rude and insensitive in general. Also, she had a nanny named Raquel.
Well, in light of Krystal's bad behavior on Arie's season of The Bachelor, Nick decided to throw in a good word for Corinne (sort of) and give his two cents about Arie's very own villain. He tweeted, "Some people weren't happy I kept Corrine (sic) around so long, but she at least made you laugh and didn't take herself too seriously. Krystal doesn't even have a nanny. Like whatevs." Is it possible that I kind of like Nick Viall now? Like, I like him a lot more on Twitter than I liked him when he broke Bachelor superstar Raven Gates' heart as the lead of his season. Funny how things change.
It's true enough that Corinne made me laugh. Krystal just makes me want to give up on this show altogether. I don't know if I've ever seen someone who attracts this much drama with this little self-awareness. And I watch a lot of reality television. Krystal acts as if she and Arie were already engaged. She's thrown fits around the other women and Arie. She's interrupted a rose ceremony to talk to Arie when no one else got to. She claims that other women don't like her because they're all jealous of her. She's... difficult to watch, to say the least.
Krystal is so disliked on the show that she actually trends on Twitter on Monday nights when The Bachelor is on. The world is officially tired of her ongoing antics, even if Arie is not quite at that point yet. She got the second one-on-one date, in which Arie actually flew her out to Scottsdale, Arizona where he's from to meet his family and watch childhood home movies. So perhaps their connection was greater than what has been seen on the show. But it's getting difficult to watch.
On Nick's season of The Bachelor, his designated villain Corinne lasted all the way to the hometown dates. She even managed to emerge unscathed from the two-on-one date with Taylor who led the charge against Corinne and later starred on Bachelor in Paradise. Taylor ended that date by visiting a voodoo priestess in New Orleans and having her energies cleansed before crashing Nick and Corinne's date. I don't know if anyone is going to be resorting to voodoo in their efforts to get rid of Krystal this time around, but I kind of hope they do.
What is clear is that we're stuck with Krystal and her self-absorption for at least another week before she gets the boot. The good news is that she is almost certainly getting the boot, as the "villains" on this show never make it to the very end, regardless of what Krystal has to say about it. But now that I'm thinking about it, without Krystal drama on the show, there will probably be a lot more making out and a lot less fighting. Maybe we should let Krystal stick around for a little while. At least until all the boring contestants are weeded out.
Check out Romper's new video series, Romper's Doula Diaries:
Watch full episodes of Romper's Doula Diaries on Facebook Watch.