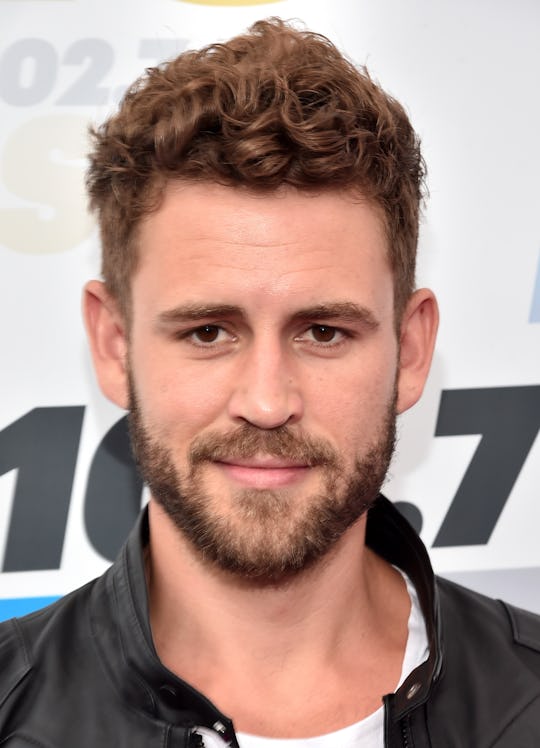 Alberto E. Rodriguez/Getty Images Entertainment/Getty Images
Nick Viall Is The 2017 'Bachelor', So Get Ready To Fall In Love All Over Again
There has been much anticipation regarding the 2017 Bachelor reveal. Seriously, I cared less about who JoJo Fletcher picked (Jordan, if you missed it), and more about the fact that I had very strong opinions about Luke, Chase, or Robby as the upcoming Bachelor. But, after a little time in Paradise (Bachelor in Paradise to be specific), the tides potentially turned, as it seemed like some fans were very into Nick Viall or Wells Adams being the Bachelor. Well, on Tuesday it was revealed that Nick Viall will be the 2017 Bachelor star, and yes this is your cue to freak out accordingly.
There were a lot of options this year when it comes to the new leading man. It has been teased, and teased, and teased by Bachelor and Bachelorette producer and creator Mike Fleiss. He has even been giving out clues about who the next star will be throughout the last few weeks. (Looking back, some of them make more sense now than they did when he pressed send.) Some of them, on the other hand, make no sense at all. Still.
Not everyone is going to be happy with a Bachelor announcement, but come on... this guy deserves his time to shine.
Obviously his appearance on The Bachelor will make this the third series of Bachelor Nation Nick has been apart of. All I can say is, third time is a charm, buddy. He has had a tough go. During Andi's season, he was criticized for the famous "Why did you make love to me" line. Then he had sex with Kaitlyn early on in The Bachelorette, so he was criticized for that (even though there are no rules, hello). Finally, Nick can call the shots for his season.
I think everyone can agree that this has been a long time coming. Nick was very humble during his moment in the spotlight during the After Paradise episode. Michelle Collins, one of the hosts of the show, asked him what he looks for in a woman, so take notes ladies if you're going to apply (and see you at the audition).
"I've alway liked confidence," Nick said, along with noting he likes someone who challenges him and knows her self-worth. Noted.
The overall consensus on Twitter? Point for Bachelor Nation for picking such a winning leading man.
I can't wait to see what Nick brings to the Bachelor franchise. We know that he was a divisive addition to Bachelorette and a great, fun, and kind addition to Bachelor in Paradise, so I have no doubt he'll be wonderful as the leading man.