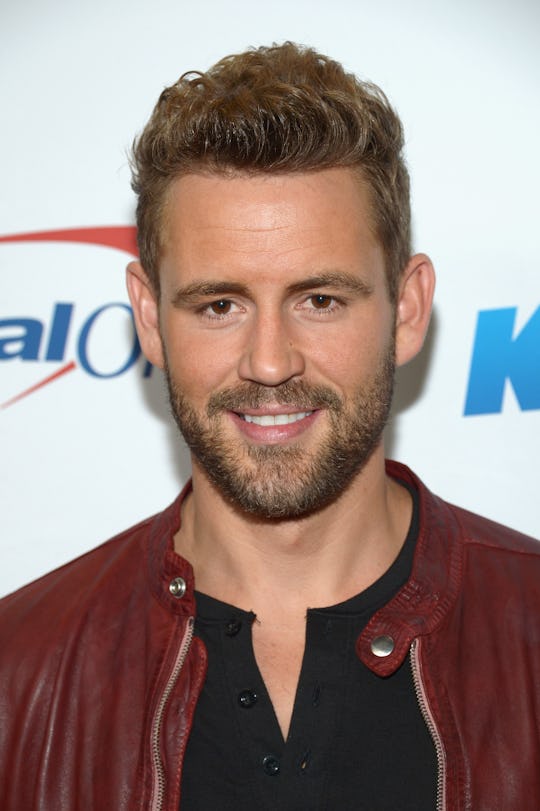 Matt Winkelmeyer/Getty Images Entertainment/Getty Images
Nick Viall's Bracelet Has A Secret Message
The finale of The Bachelor took place Monday night, and a three year journey of love finally came to a close (maybe). (Spoiler alert to those that have not seen the news...) Nick Viall proposed to Vanessa Grimaldi on The Bachelor finale and while the pick wasn't that shocking, the very real, rather awkward After the Final Rose that followed the proposal was. But, while many are worried about the status of the relationship between Nick and Vanessa, there was one small, unspoken thing that happened during finale night that fans may have missed. Nick Viall wore a bracelet with Vanessa's name on it, which is small but pretty meaningful.
During the finale, Nick finally said "I love you" to Vanessa, who happily accepted his proposal in Finland. The two rode off in a sleigh — oh, wait, no the Santa part was before the proposal. I digress. The two rode off into the metaphorical sunset, landing themselves in the hot seat next to Chris Harrison who may or may not have been a little skeptical on the happiness both Nick and Vanessa had for their newly public relationship. In fact, Chris even asked Rachel (the new Bachelorette) what she thought of them, since he was very clearly dancing around something we were all thinking... they didn't seem to be very happy.
But, reality television can be stressful. Ultimately, we don't know what happens behind closed doors — fantasy suite or not. So, it really shouldn't be that much of a surprise when Nick and Vanessa seemed much happier in photos posted to social media after the reveal, specifically the following photo Nick posted while filming Jimmy Kimmel Live!
While looking at the photo in a post-Bachelor bliss, you may notice something: Nick is wearing a beaded bracelet on his wrist that spells something out. What does it spell out exactly? Well, why not go right to the source.
After further inspection, the reflection of the surface Nick is resting his hand on seems to aid in the Wheel of Fortune aspect to this game. "V-A" with a space, and an "E" are pretty visible, once you zoom in a lot.
OK, so an "A-OK" (is that what that emoji is) isn't really confirming it, but it's definitely not denying it. And if it is confirming it, it's certainly a sweet touch for the no-longer Bachelor to be wearing during his first press tour with his new fiancée. So, maybe they're still figuring out the marriage thing. And maybe they're working out the details on where to live... but if we know one thing stands true, it's that a little beaded bracelet with the name of the person you love means way more than all that other stuff.