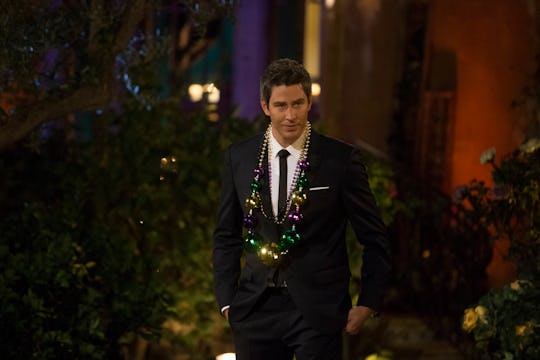 Paul Hebert/ABC
Former 'Bachelor' Nick Viall Has A Message For Arie & It's Hilarious
The latest season of The Bachelor is the 22nd cycle — which means there have been a lot of Bachelors at this point. Last season's took to Twitter on the night of the premiere to wish the latest well. In fact, Nick Viall's message to Arie on The Bachelor will make you laugh out loud. Remember Nick? I think it'd be pretty hard not to, even with 21 other Bachelors at this point. Nick starred on last season of The Bachelor and, like Arie, that choice was at first controversial. He was seen as a "villain" on his time on The Bachelorette but somewhat redeemed himself on Bachelor in Paradise. Since he's been through the ringer, he'd be a good candidate to give advice to Arie.
I'll give a rundown of Nick just for those who are just getting into Bachelor Nation, or those who couldn't keep track all of this time. Nick was originally on Andi Dorfman's season of The Bachelorette and wound up as the runner-up. He became notorious because he admitted that the two had sex on After the Final Rose. Then, he went on Kaiyln Bristowe's Bachelorette season and... was the runner-up again. Afterwards, he thought he'd try his luck on Bachelor in Paradise, but he managed to leave alone. Last year, he became The Bachelor and had a slew of contestants of his own to choose from. Nick and the winner, Vanessa, ended up splitting a few months afterwards, so who knows — Nick could be back on the next Bachelorette season! But before I get ahead of myself, he took sometime on Monday night to wish Arie luck on Twitter:
Nick wrote the newest Bachelor a tongue-in-cheek poem: "Roses are red, your eyes are SO blue, people wanted it to be Peter, but I believe in you." The Peter he's referring to is Peter Kraus from Rachel Lindsay's Bachelorette season. Like Nick and Arie, Peter came in second place, but his time on the show was different than most. He actually volunteered to leave himself because he didn't feel ready for the commitment (and who could blame him?). Peter was some viewers' top choice for this Bachelor season because of his jovial personality (and let's face it, his looks). He was also taking the show seriously enough to weigh his options at the end and choose to bow out.
According to Us Weekly, though, Peter had the chance to be this season's lead but bowed out yet again. "It all just ended so fast," he told Us Weekly. "It was just me, sitting there by myself in my own thoughts. That was a really dark couple of days. When you have no outlets, it's hard to get out of your head." Because of his mental state, he felt like he couldn't start this process over again. "It was just a loose conversation of, 'Is this something you have ever thought about, something you would do,'" he said of the talk he had with producers about a possible Bachelor season. He continued, "I was so distraught at that time that it was something that I could never see myself doing."
Well, never say never Peter, but for now Arie is the pick. I find Nick's poem hilarious myself because I am among the viewers who was rooting to see Peter on my TV for the next eight weeks. Alas, that is not the case, but I'm glad Nick took the opportunity to make a great poem about it. He believes in Arie and so do I, and I'm sure after the premiere Bachelor Nation as a whole does as well. And who knows, seeing as Arie became the Bachelor six years later, maybe Peter will be in 2023.
Check out Romper's new video series, Romper's Doula Diaries:
Watch full episodes of Romper's Doula Diaries on Facebook Watch.