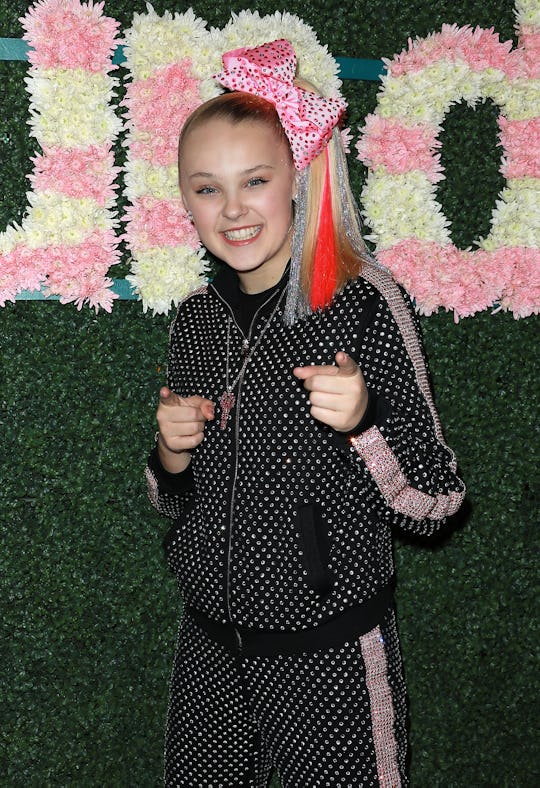 JC Olivera/Getty Images Entertainment/Getty Images
Here's What Nickelodeon's JoJo Siwa Is Getting Her BFFs For Xmas, So Take Note
You might recognize 15-year-old JoJo Siwa from her time on the popular Lifetime reality TV show Dance Moms, but today, JoJo is more than a reality TV star. The Nickelodeon singer, dancer, entrepreneur, and New York Times best selling author currently boasts an impressive 7.4 million Instagram followers, 387,000 Twitter followers, and over 8 million subscribers on her YouTube channel. Siwa's obviously feeling the love, but how does she return it? Here's what JoJo Siwa is giving her friends for the holidays – take a page out of her book, and spoil your children or friends Siwanator style.
Moment of truth: There are some social media influencers with millions of followers, and I can't seem to pinpoint why they've amassed the following they have. That's not the case with Siwa. In an age when everyone is eager to grow up as quickly as possible, Siwa embraces all things youthful, from hair bows to sparkles to all things whimsical, colorful, and fun. More notable than her look, however, is her equally loud and proud message against negativity and bullying in any form. When it comes to "child stars" you'd want your own kid to emulate, Siwa's certainly not a bad choice. And her summer 2019 D.R.E.A.M. tour already sold out once before more shows were added to the lineup, according to I Heart Radio, affirming how popular she is with the tweenage set.
If you've got a Siwanator in your own family, you can't go wrong with this list of gifts Joelle Joanie Siwa herself shares exclusively with Romper. Here's what she'll be giving to her besties this year, along with tickets to her upcoming tour, of course.