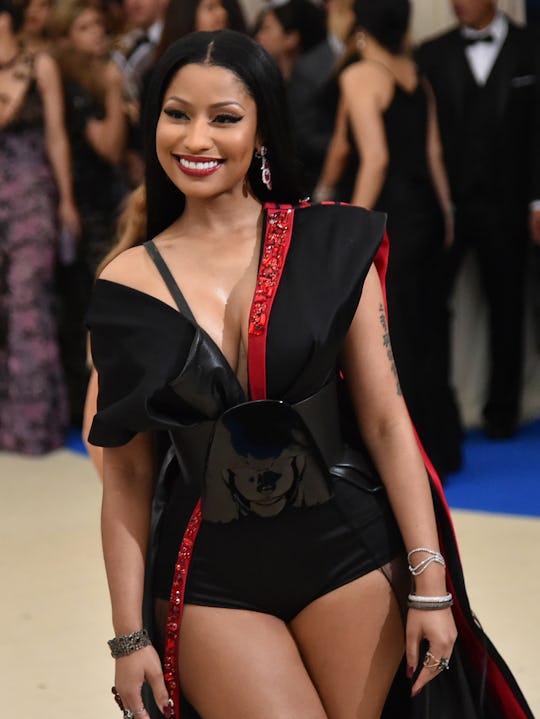 Mike Coppola/Getty Images Entertainment/Getty Images
Nicki Minaj's Baby Emoji Tweet Has Fans Freaking Out
Is a little one on the way for one of the music industry's biggest names? Fans were left buzzing on Monday night after rapper and all-around queen Nicki Minaj tweeted a mysterious baby emoji from her official account, leading many to question whether she herself was expecting. Of course, the 34-year-old hasn't yet issued any official statements about a new addition, and for all fans know, it could be a false alarm or a clever ploy on Minaj's part. But that didn't stop fans from voicing excitement anyway.
"This better be promo for your collab with Asahd and not a pregnancy announcement," one fan joked, referencing DJ Khaled's 8-month-old son (who, by the way, has an executive producer credit on his dad's latest album).
"Baby on the way WITH NAS," another fan suggested, adding, "Or are you talking about how these Rap girls are your SONS??"
Another fan had a more tangible theory: "Why is she liking all the pregnan[cy] related comments?" they tweeted, though to be fair, it was hard to tell whether that was true (at the time of publication, the tweet had nearly 3,000 retweets and some 7,600 likes). In response to a fellow fan who suggested that Minaj was possibly "trying to tell [them] something" by liking the tweets, the original poster joked, "Well sis just gon have to come out & say it. I [don't] speak emoji."
Whether it was a joke or something a little bit more exciting, it wouldn't be the first time Minaj has stirred up the baby rumor-mill. Back in February, Minaj trolled her own fans with a photoshopped image of herself sporting a very visible bump, leading at least a few fans to believe she was expecting. "I was gonna wait to share the news but..." she captioned the Instagram photo.
"Wait u pregnant fr no photoshop and i being tricked into havin a slow moment cuz i think its workin..." one fan wrote in the comment section. Others were quick to spot the joke, with one fan writing, according to XXL, "Y'all this is a joke look at the pic before this one she's skinny you can't have a 8month preg belly after a day."
According to BET, the post followed on the heels of a similar joke back in September 2016, in which rapper Meek Mill — whom Minaj was dating at the time — posted an Instagram image of a woman who looked suspiciously like Minaj and was cradling a bump. "Haters will say it's #photoshopped," he wrote in the caption. (Given that Minaj has no baby now and never had a visible bump in real life like the one in the photo, it's a pretty safe bet that it was just Mills trolling the fan-base.)
If it turns out that Minaj is really pregnant this time around, then fans will have plenty to celebrate, to say the least. But for now, take everything the prankster writes with a grain of salt.