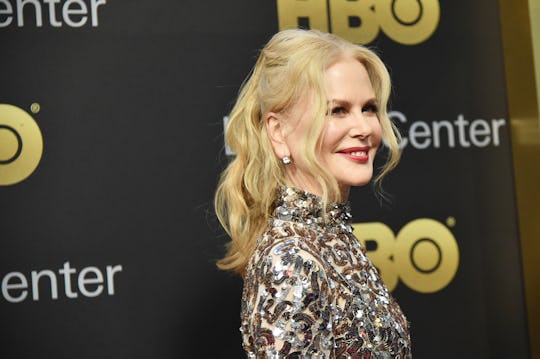 Mike Coppola/Getty Images Entertainment/Getty Images
Nicole Kidman Opened Up About Her Two Miscarriages For The First Time, & It's So Important
If you were to rank Hollywood's most private celebrities, Nicole Kidman would appear at the top of that list. And it's not exactly difficult to see why Kidman is so guarded — from the hurtful rumors about her divorce from Tom Cruise to claims that she doesn't acknowledge her adopted children (this is not true, btw), she tends to get a bad rap where it concerns her personal life. Still, Kidman does make an effort to share private details about herself when it concerns important and relatable topics. Case in point: In the July issue of Tatler magazine, Nicole Kidman opened up about her two miscarriages and the emotional fallout from the losses. Given Kidman's hesitance to speak on personal topics, it's safe to say this conversation required a lot of bravery on her part.
Back in 2007, Kidman hinted in an interview with Vanity Fair that one day she'd share the story of her miscarriages. "There's a complicated background to that, given that I never speak much about many things," Kidman told the publication about the painful topic. "One day, maybe that story will be told."
Cut to 11 years later, and Kidman is divulging her feelings about the miscarriages. The first loss — an ectopic pregnancy — occurred shortly after Kidman married Cruise in 1990. The second miscarriage happened not long after Cruise filed for divorce from Kidman in 2001.
She told Tatler of the two losses:
I know the yearning. That yearning. It's a huge, aching yearning. And the loss! The loss of a miscarriage is not talked about enough. That's massive grief to certain women.
Kidman is right that people can experience a high level of grief after a miscarriage. In fact, "major depressive disorders are more common in women who suffer a miscarriage than in those who have not been pregnant," according to Psychology Today. People can also experience feelings of guilt, worthlessness, and shame following a miscarriage. Each person is different.
Kidman also admitted that her miscarriages led her to have mixed feelings about giving birth to her now 9-year-old daughter, Sunday Urban. Kidman revealed to Tatler:
There's an enormous amount of pain and an enormous amount of joy on the other side of it. The flipside of going through so much yearning and pain to get there is the feeling of 'Ahhhh!' when you have the child.
Kidman's honesty about her mixed emotions is incredibly important. Too often, people assume that those who suffer a miscarriage simply feel happiness when they conceive again and later give birth. The truth is many people have complicated emotions about having a child following a miscarriage — a phenomenon that is completely understandable.
As for why Kidman is opening up about the topic now, there's a good chance she has had enough time to reflect on the miscarriages. It's important to remember that Kidman was about 23 when the first miscarriage happened, and that she was around the age of 34 when the second one occurred. A lot of healing and reflection can happen in 27 years.
Not to mention, Kidman now has a beautiful family by her side to see her through life's journeys. In addition to Sunday, Kidman is a mom to Isabella Cruise, 25, Connor Cruise, 23, and Faith, 7. And to top it all off, Kidman has enjoyed about 12 years of marriage with country singer Keith Urban.
Of course, it's highly unlikely Kidman will ever forget the long road she traveled to get to the place she is today. It's obvious Kidman still feels the loss associated with her two miscarriages, and it's probable that many parents can relate to her grief. Although Kidman didn't have to reveal her feelings on this topic, it's admirable that she stepped outside of her comfort zone to share this story.