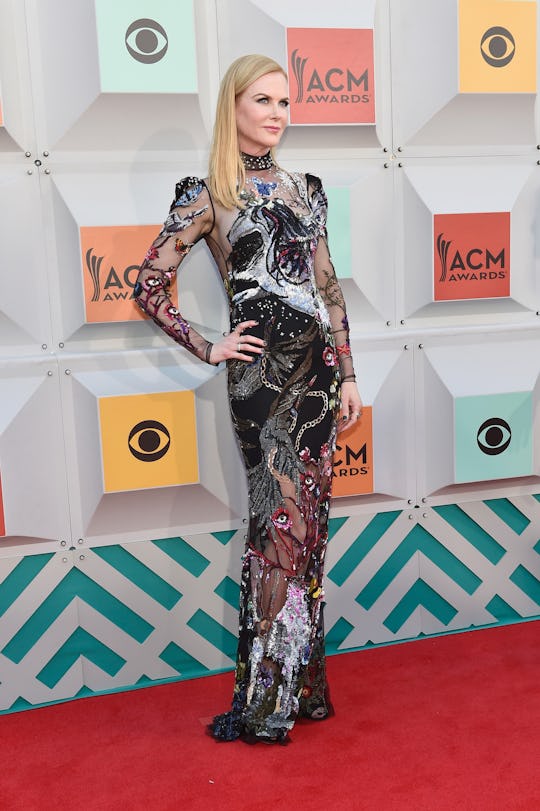 David Becker/Getty Images Entertainment/Getty Images
Nicole Kidman's ACM Awards Dress & Mood Were The Highlight Of The Show
I didn't know what to expect when I tuned into the American Country Music awards on Sunday night, but then I realized that Nicole Kidman would be there, no doubt supporting her husband, who is very ~musical~. But I wasn't prepared for just how much Kidman would be at the show, and from the very first minute throughout the whole night, Nicole Kidman at the ACMs totally made the show. Aside from the fact that she absolutely killed it when it came to gown selection (seriously, Nicole, got damn!), but she looked like she was having the most fun ever.
Let's talk about her outfit choice first. Kidman knows a thing or two about rocking awards show red carpets (she's famously werked hundreds of carpets for Golden Globes, Academy Awards, and SAG shows), and in the past few years, she's naturally become incredibly adept at merging her high-end Hollywood style with the easy-going fashion associated with country show awards. Combing two separate styles is a task in and of itself (honestly, how do you know how much is too much for one show, but not enough for the other?), but Kidman has done it flawlessly. And tonight highlighted just that:
I mean, really, you know you look good when your partner just stands next to you and looks at you like this:
However, it wasn't just her fashion sense that earned Kidman top honors at Sunday night's show. (But like, OK, I mean, if we're going to be fair, and if the ACMs had any sense at all, they'd give Kidman an award for every category and call it a night.) Not only did she win the red carpet, Kidman looked like she was having the time of her life tonight, and I loved getting a front-row seat (halfway around the country, but whatever) into what tonight must be like for her. There's so much hype surrounding the nominees, the performances, and what happens when the cameras go live, so I imagine events like tonight must provide Kidman with an awesome opportunity to kick back, relax, enjoy, and most importantly have a good time.
And, uh, for anyone who's curious if Kidman was having fun tonight, here's all the proof you'll ever need:
Yep. G'head, girl. Pretty safe to say that Kidman was the star to watch tonight, and I think all of the night's biggest winners would agree.