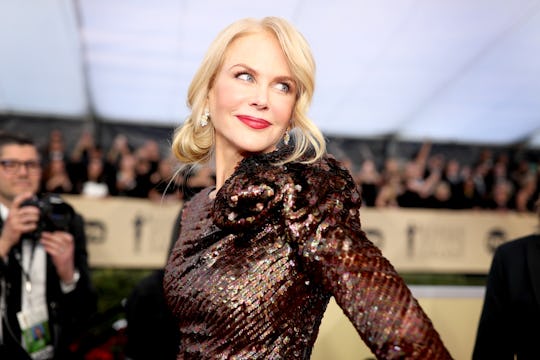 Christopher Polk/Getty Images Entertainment/Getty Images
Nicole Kidman's SAG Awards Acceptance Speech Was Empowering AF
Nicole Kidman has swept this awards season for her work on last year's HBO miniseries Big Little Lies, winning the Golden Globe, the Emmy, and now the SAG Award for playing the role of Celeste, a whip-smart mother and domestic violence survivor. Her acceptance speeches always focus on the importance of telling stories of abuse with compassion, complexity, and, most importantly, with the authority of women who have actually experienced it behind the wheel. Nicole Kidman's SAG Awards acceptance speech is no exception.
Celeste has been the topic of much conversation this past year as a powerful, smart, and privileged woman who seems to have it all and enjoy a certain degree of playful and passionate power exchange with her husband. But it all becomes exceedingly more complicated when her husband, expertly played by Alexander Skarsgard, begins to violently cross boundaries, blurring the lines of consent, repeatedly gaslighting his wife, and finally unleashing a full-fledged torrent of abuse against her. In spite of being in couple's counseling together and seeking the help of a therapist alone, Celeste continues to experience conflicting feelings about whether or not she's actually being abused, giving a powerfully realistic look at how confusing domestic violence can be.
Kidman's speech noted the trailblazing actresses who came before her, and acknowledged their work in ensuring that she's still able to have an award-winning career at her age.
Kidman tearfully accepted the award after a rocky start to her speech — she was suffering from the flu and was up until 1 a.m. the night before on a shoot, so she was understandably feeling a bit overwhelmed. Kidman admitted, to a round of applause, that she's playing an "out there and raw character, so I'm having a little trouble shedding it, but I'm here and I'm grateful."
She added:
To receive this at this stage in my life is extraordinary, and at this time in the industry when these things are going on, and for this role...I want to say Susan Sarandon and Jessica Lange, I revere you, I've watched you, and I've learned from you. And there's others: Meryl Streep, Jane Fonda, Judy Davis, Isabelle Huppert, Shirley MacLaine, Judi Dench. The list is so long and I would love to say so many more names, but I can't right now. But I want to thank you all for your trailblazing performances you've given over your career, and how wonderful it is that our careers today can go beyond 40 years old. Because 20 years ago, we were pretty washed up by this stage in our lives. That's not the case now.
We've proven, and these actresses and so many more are proving that we are potent and powerful and viable. I just beg that the industry stays behind us because our stories are finally being told. It's only the beginning, and I'm so proud to be a part of a community that is instigating this change. But I implore the writers, directors, studios, and financiers to put passion and money behind our stories. We have proven that we can do this. We can continue to do this, but only with the support of this industry and that money and passion.
It's been a running theme in acceptance speeches from the Big Little Lies team, as they continue to collect awards, to mention the importance of financially backing women's stories. That is, it takes more than just giving women an opportunity; it takes studios actually giving them the same resources and support they give to projects backed by men. Hopefully, Hollywood is listening.
Check out Romper's new video series, Romper's Doula Diaries:
Watch full episodes of Romper's Doula Diaries on Facebook Watch.