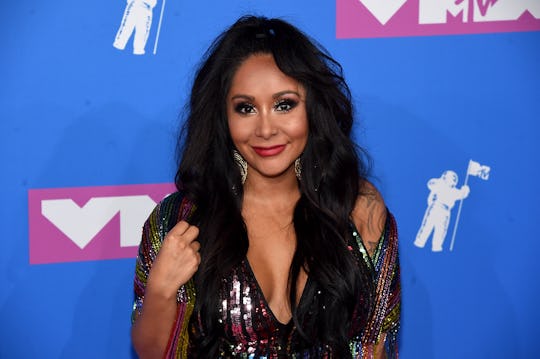 Jamie McCarthy/Getty Images Entertainment/Getty Images
Snooki Just Revealed She's Pregnant With Baby No. 3 — PHOTO
Snooki might be forever best-known for her her time as an outspoken party girl on the MTV reality show Jersey Shore, but these days, she's actually a busy mom, wife, and businesswoman. But it sounds like her life is about to get even busier: on Thursday, Nicole "Snooki" Polizzi revealed she's pregnant with baby number three, according to The Daily Mail, and her announcement couldn't have possibly been any cuter. In a sweet black-and-white Instagram photo, 30-year-old Polizzi shared of photo of her two children, 6-year-old Lorenzo, and 4-year-old Giovanna, holding a framed ultrasound photo of their soon-to-be sibling, along with the caption, "What I'm thankful for this Thanksgiving."
News of Polizzi's baby-to-be left her Instagram followers beyond excited, but then again, it's pretty easy to see why. The reality star and her husband, Jionni LaValle, pretty much have the most adorable little family, and you don' t have to look very far for proof. Polizzi's feed is full of sweet family photos, including many of her kids hugging and basically looking like total BFFs, which has to be every mom's dream come true. What might be even cuter? Giovanna is pretty much Polizzi's mini-me, and the two have their Instagram selfie game *down*.
As exciting as the news of Polizzi's pregnancy definitely is though, it's not exactly surprising. On an episode of Jersey Shore: Family Vacation earlier this month, according to People, Polizzi revealed that she and LaValle were trying for a third child, and she was caught off-guard when she found herself vomiting after she'd been drinking. But when the pregnancy test she took came back negative, Polizzi was clearly bummed: she said, "I'm not pregnant. I'm so annoyed. I'm just old and I can't f*cking hang anymore."
But it might be actually be kind of surprising that she waited this long to get pregnant again. In March 2016, Polizzi told E! News that her husband "wants to have [another baby] right now," and unless she's since changed her mind, it sounds like she also definitely has an opinion about what she's hoping the baby's sex will be. Polizzi said, "I don't want any more girls. If I have a girl, I'm just going to be really upset about it."
It could be that she's just be looking to balance things out a little bit for Lorenzo: Polizzi's Jersey Shore bestie Jennifer "JWoww" Farley also has a 4-year-old daughter who is "best friends" with Giovanna, according to E! News, and now that the mamas have continued to team up on-screen with a weekly YouTube web series called Moms With Attitude, their little girls often pop up in episodes and totally steal the show.
At the same time though, it also sounds like Polizzi might just be a bit too uncomfortable with the idea of Giovanna going through a similar party-girl phase as her famous mama one day. In Feb. 2017, Polizzi told E! News that Giovanna was "her twin," and said, "she's like a clone, which is terrifying ... [The girls] are going to grow up together, they're probably going to kill us, do what we did, but we're prepared."
If Polizzi gets her way though, there could even be two more boys to come in her future. The reality star also told E! News that she was hoping to have two more children, and that she was crossing her fingers they'd both be boys, because she already thought her daughter was "too much!"
For now, Polizzi and LaValle don't seem to be sharing their baby's sex either way, although it's also possible they haven't yet found out. Regardless, it's clear that they couldn't be happier to have another little one on the way. And judging from their kids' reactions? Lorenzo and Giovanna are totally here for it as well.
This first-time mom wants to have a home birth, but is she ready? Watch how a doula supports a military mom who's determined to have a home birth in Episode One of Romper's Doula Diaries, Season Two, below. Visit Bustle Digital Group's YouTube page for the next three episodes, launching every Monday starting November 26.