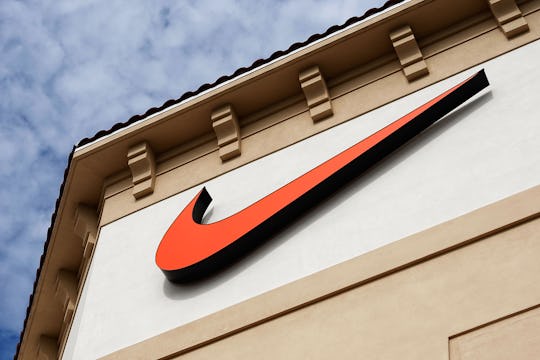 Getty Images/Getty Images News/Getty Images
Nike Is Offering Paid Leave For All Employees, So We're Slowly Getting There
Paid family leave has not been getting the airtime it deserves this campaign season, but that doesn't mean employees haven't been campaigning for it themselves. In a move that hopefully signals more change to come, the global fitness and apparel powerhouse, Nike, is offering paid leave for all employees. While the company's new policy is far from perfect, it's a step in the right direction.
According to Reuters, employees who work more than 30 hours per week, or full time, at Nike Inc. are now eligible for paid family leave. While the phrase "family leave" is gender neutral, the policy itself is not. Nike announced that it will be allowing up to eight weeks of paid leave for fathers, adoptive parents, and employees who need to take time off to care for family members; however, "birth mothers" can request at least 14 weeks of paid leave (even more with a doctor's recommendation). Nike told Romper of the new policy:
Family Care gives new mothers and fathers eight weeks of paid time off to bond with their newborn, adopted or permanently placed child. This is in addition to the time off that new birth mothers would traditionally receive under short-term disability, taking their total paid time off to a minimum of 14 weeks.
While that's definitely an improvement from the six weeks that only birth mothers were granted before, it still enforces the idea that women, aka "birth mothers," are the assumed primary caregiver.
The Pew Research Center published a report on the growing trend of stay-at-home dads. In 2012, they were 16 percent of all stay-at-home parents, up from 10 percent in 1989, and that number has continued to rise in the past four years. Pew also released the results of a survey that found that working fathers with children are "just as likely as working mothers to say that it is difficult for them to balance the responsibilities of their job with the responsibilities of their family." That conclusion is especially pertinent to family leave policymakers because it shows that leave directly benefits both partners. It also demonstrates that the roles of mother and father are not set in stone, but, rather, are converging and changing. Furthermore, about the same percentage of fathers (48 percent) as mothers (52 percent) reported that they would rather be home raising their children, but they could not afford to do so. More and more couples are both working and juggling family and their jobs; employers have failed to recognize that.
This country's leaders in paid family leave are tech companies. Notably, Facebook does not differentiate between maternity and paternity leave at all, but allows any new parent (including adoptive ones) four paid months off. (CEO Mark Zuckerberg took full advantage of his own policy when his daughter, Max, was born.) Other Silicon Valley companies, like Netflix, offer unlimited parental leave to all parents in an effort to attract and retain top employees, according to TIME. While these policies are moves in the right direction, they are reserved for the most competitive, highest paid positions in the country. According to The Street, paid family leave is five times more common among high earners than it is among low ones, especially those employed hourly or part time.
That, more than anything, points to a need for a nationwide family leave policy, rather than leaving the decision to individual businesses. According to NPR, the United States is one of the only countries that requires neither maternal nor paternal leave (and is the only developed nation not to require it). As it stands now, 96 countries require paid paternal or non-gender-specific leave after a child's birth. While Scandinavian and European countries lead in the benefits they offer new parents, more and more countries are joining in because of the advantages it offers for families and employers alike. The United States currently trails behind Togo, Armenia, Uzbekistan, Laos, and many, many others in terms of its protections for growing families.
While Nike's new leave program doesn't fully address the changing dynamics of parenthood, it is a small victory in the battle to normalize paid parental leave. Despite it's shortcomings, it's still much better than what most parents are offered in the United States.