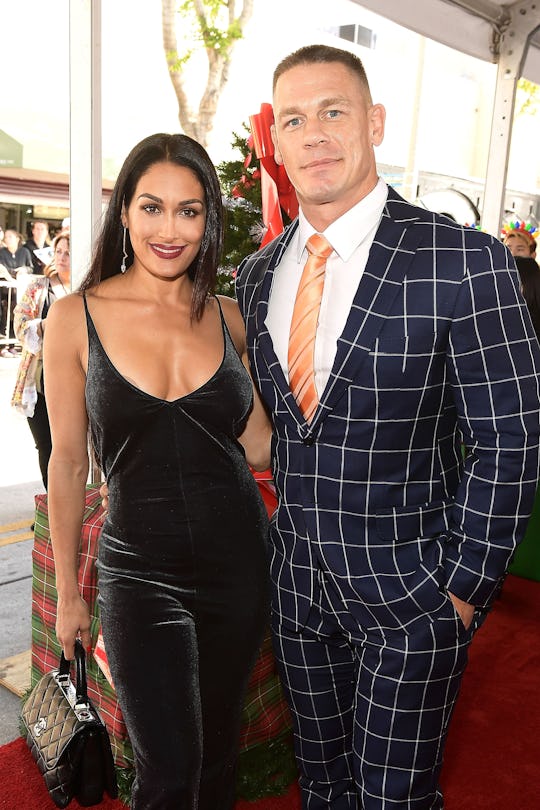 Matt Winkelmeyer/Getty Images Entertainment/Getty Images
Nikki Bella & John Cena Are Reportedly Back Together, & It's A Sweet Update
Fans may be breathing a sigh of relief today, because after calling off their engagement three weeks prior to their wedding, Nikki Bella and John Cena are reportedly back together. Us Weekly reported that an "insider" close to the couple said the following: "Nikki called off the wedding earlier this month so she could have more time to make a decision with what she wanted in life. Calling off the wedding was the right decision at the moment and their relationship only grew from it. It didn't mean that any love was lost, or that they lost any feelings for one another, but they both have realized that they love each other and want to be with one another."
News of the reconciliation was prompted by the release of a clip from Sunday's episode of Total Bellas, in which the two reunite. In the clip, Bella spots Cena and walks up to him saying, "You didn't even call or text me yesterday," to which Cena replies: "I'm supposed to stay away from you. It's taking every fiber of my being not to text or call you. I'm just trying to do the right thing." He then says "I miss you so much," to which Bella replies, "I miss you too."
Bella also explains how strongly she feels about Cena: "John, I mean he's like a frickin' magnet to me. It's like my heart sinks so deep into my stomach," she shared in the clip. "Like I feel like I don't even know how to breathe as if my lungs are filled with fluid."
After getting engaged last year, the couple announced in April that they would be separating just weeks prior to their wedding. People reported that the couple issued a statement that said: "While this decision was a difficult one, we continue to have a great deal of love and respect for one another. We ask that you respect our privacy during this time in our lives." Page Six also reported that the issue of whether to have kids played a role in their separation. Cena was vocal about wanting children as much as Bella was adamant that she "did not want to be a mom," as she told Cena on a 2013 episode of Total Divas.
However, for as quickly as the split happened, the reconciliation seemed to happen just as quickly. Earlier this month, Bella also told People that she believed they would eventually get married. "Only time can tell. I think he's Mr. Right. He's Prince Charming. He's an amazing man. I hope that our paths do come back together and I think they will," she said.
A "source" close to the couple also shared with People that they're "basically back together," and that though they took some space over their wedding weekend, they haven't lost contact. The source shared:
This was never really about ending their relationship— it was about calling off a wedding because something didn't feel right. It was a wedding that was entered into under false pretenses. She was pretending she was okay with not having a kid, he was pretending he absolutely couldn't and wouldn't budge on that point.
Be that as it is, having kids is certainly not something to take lightly, especially when it comes to choosing your life partner, and it is refreshing that both Cena and Bella realized it was a big enough deal to warrant a break. It's not easy to make a decision like that, and certainly not given their timeline and how public their relationship was in the first place. Either way, it appears as though they are trying to work things through to the best of their abilities, and hopefully come Sunday's episode of the show, fans will know even more about what's really going down between them.