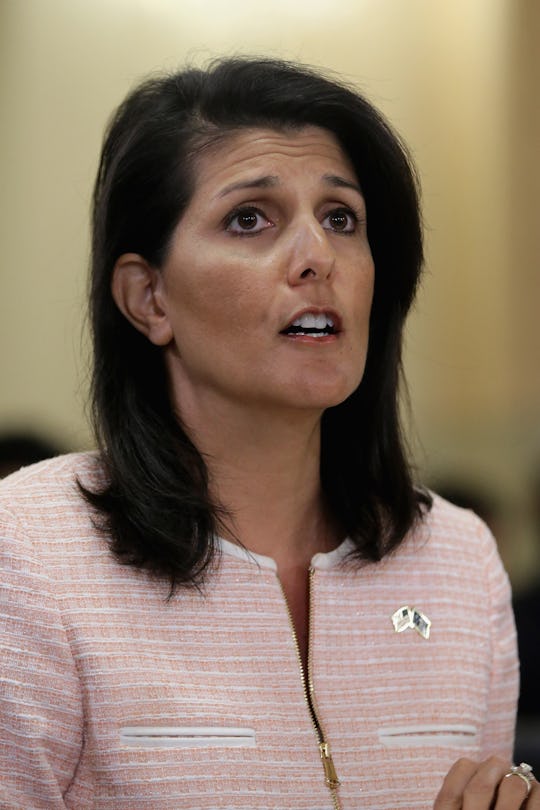 Chip Somodevilla/Getty Images News/Getty Images
Nikki Haley Quotes That Show What Kind Of Influence She May Have On The Presidency
South Carolina Gov. Nikki Haley was named by President-elect Donald Trump as the U.S. Ambassador to the United Nation on Wednesday, following a meeting with Trump's transition team in New York last week, according to The New York Times. The choice was somewhat surprising, given Haley's criticism of Trump during his campaign — she endorsed Trump only after first endorsing Florida Sen. Marco Rubio and then Texas Sen. Ted Cruz — and also because she lacks foreign policy experience and hasn't served in a federal role. But now that she's officially part of Trump's team, these Nikki Haley quotes show where she stands on important issues, and provides some insight into how she might be influential in her new role.
As a presidential candidate, Trump essentially ran his campaign as a GOP outsider, someone who is viewed as firmly anti-establishment, and who became such a controversial and unorthodox candidate, that, by the time Election Day rolled around, many prominent members of his own party had denounced him. But after his win, Trump vowed to be a unifying force as president, according to The Independent, and it seems like appointing a traditionally conservative Republican like Haley (who, as the daughter of Indian immigrants, also happens to be South Carolina's first female and first minority governor, according to CNN) might at least be a way to bridge the gap that exists among right-wing voters.
She's Spoken Out Against Racism
44-year-old Haley is currently serving her second term as governor, and according to CNN, gained popularity as a politician with a business background who was focused on creating jobs. Although as recently as 2014, Haley didn't particularly seem to be bothered by the issue of racial discrimination, and even said at a debate in 2014 that "we really kind of fixed all that," when South Carolina voters elected her to be governor as a woman and a minority, and "when we appointed the first African-American U.S. senator [Tim Scott]," according to The Washington Post. Haley was lauded for her leadership following the mass shooting in a Charleston church in 2015, and pushed for the removal of the Confederate flag from the state capital grounds. In a June press conference calling for the flag's removal, Haley said,
On matters of race, South Carolina has had a tough history; we all know that. Many of us have seen it in our lives, in the lives of our parents and grandparents. We don't need reminders. ... We are not going to allow this symbol to divide us along longer. ... The fact that it causes so [much] pain is enough to move it from the capitol grounds. It is, after all, a capitol that belongs to all of us.
Later that year, Haley received an award for her work from the Harvard Foundation for Intercultural and Race Relations, according to TIME.
Haley also made headlines in January, when she warned Americans against what she called "the siren call of the angriest voices," in a swipe at Trump, and said that she thought he had "definitely contributed to what I think is just irresponsible talk," according to NBC News. One month later, Haley referred to Trump as "everything a governor doesn't want in a president," and, according to The New York Times, also criticized Trump for not denouncing the Ku Klux Klan's endorsement of his campaign, pledging that she "will not stop until we fight a man that chooses not to disavow the KKK That is not a part of our party. That is not who we are."
Haley Is Supportive Of Legal Immigration
Another issue on which Haley and Trump have disagreed? Immigration. Haley specifically took issue with Trump's proposed ban on Muslims during his campaign, and according to NBC News, Haley told TODAY earlier this year that legal immigrants should be accepted in the country regardless of where they come from:
If we have citizens who are law-abiding, who love our traditions, who do everything to be productive citizens in America, they should feel welcome in this country. The reason this country is so great is because the fabric of this country was made by immigrants, and its legal immigrants.
Trump, for one, was not particularly impressed with Haley's stance, and according to CNN, told Fox & Friends that he thought Haley was "very weak on illegal immigration." When asked by CNN whether he'd consider Haley as his running mate, Trump said, "well considering I'm leading in the polls by a lot, I wouldn't say she's off to a good start. Whoever I pick is also going to be very strong on illegal immigration."
But She Is Against Abortion & Equal Marriage Rights
While Democrats might be in favor of Haley's more inclusive position on immigration (at least, in comparison to Trump's), they are much less likely to agree with where she stands on reproductive rights and equal marriage for LGBTQ couples. According to OnTheIssues.org, Haley said in 2010 that she "[believes] every life has a value and is blessed by God," and explained,
My husband was adopted, and my pro-life convictions stem from the fact I feel the blessings of that value every day knowing someone chose life for him. I see it every day in my two children as I watch them grow. My hope is that we continue to encourage and work towards educating that value of life to everyone.
That same year, when asked about her views on same-sex marriage, Haley said she didn't support it, and added that "marriage is between one man and one woman." In 2014, The Advocate called out Hayley as one of the "most anti-gay state officials," noting that she endorsed former Massachusetts Gov. Mitt Romney in 2012 specifically because of his views on same-sex marriage, and that after a federal lawsuit challenged what was then South Carolina's ban on marriage equality, she responded by saying,
The citizens of South Carolina spoke ... they spoke something that I, too, believe, which is marriage should between a man and a woman. ... I'm going to stand by the people of this state, stand by the constitution, I'm going to support it and fight for it every step of the way.
She Does Not Agree With Gun Safety Legislation
Like Trump, Haley has spoken publicly about her belief in the importance of protecting Americans' unrestricted Second Amendment rights, and, according to Salon, advocated in 2014 her support for a bill moving that would make it easier for South Carolina residents to carry firearms by "[eliminating] the state's current permitting and training requirements." The Constitutional Carry Act, which was ultimately voted down in March, according to WJBF ABC News 6, would have removed the permit requirement for anyone wishing to carry a concealed firearm in the state, along with removing the requirement for firearm training.
In June, Haley did manage to sign a bill that made it legal for anyone with a Concealed Weapons Permit to carry their firearms in bars and restaurants though, so long as they did not consume alcohol, according to NBC News 4. The law still gave business owners the right to ban firearms in their establishments, but Haley argued that might not be a wise idea, arguing that "if a restaurant does allow concealed weapons, a criminal is less likely to go into a restaurant knowing that there are people who are protecting themselves."
And Is Also Not A Fan Of Obamacare
Another issue where Trump and Haley are likely to agree? Their disdain for the Affordable Care Act (ACA), otherwise known as Obamacare. Trump spoke often during his campaign about his desire to repeal and replace the plan that gave as many as 25 million previously-insured Americans the ability to get healthcare coverage, and Haley has also disparaged it, referring to the ACA in a 2014 State of the State address as "disastrous," and "damaging," and arguing that it resulted in "lost coverage, rising costs, and unprecedented dysfunction," for those in South Carolina, according to OnTheIssues.org.
But She Was Concerned With Trump's Campaign Messages
Haley and Trump do share common ground, and according to Reuters, Trump released a statement Wednesday in response to her ambassador appointment calling Haley "a proven dealmaker, and we look to be making plenty of deals. She will be a great leader representing us on the world stage." Haley responded in kind in a statement of her own, and said,
When the president believes you have a major contribution to make to the welfare of our nation, and to our nation's standing in the world, that is a calling that is important to heed.
But despite their new working relationship, there's no doubt that they didn't hold back at criticizing each other during the campaign. According to The Post and Courier, Haley said in February that she thought it would be "impossible" for Trump to actually win the general election, and said that, "Donald Trump is everything we teach our kids not to do in kindergarten. We have seen behavior over and over again that is just unacceptable."
As for Trump? He launched a choice tweet Haley's way back in March, when he wrote that "the people of South Carolina are embarrassed by Nikki Haley!"
Given Haley's lack of comparable experience, it's hard to say what kind of ambassador she is likely to be in regards to foreign policy issues. But judging from what she has said and done in her role as a governor, it's likely that Haley is the type of Republican that represents the many right-wing voters who felt that neither Trump nor former Secretary of State Hillary Clinton actually reflected their values and priorities.
Her appointment is still not exactly great news for Democrats, of course, but given that some of Trump's earlier appointments — including his former campaign chief Steve Bannon, and Alabama Sen. Jeff Sessions — have been met with outrage and evidence of racism and white nationalism, Haley at least represents someone who has spoken out against Trump's comments about minorities (although it's not nearly even close to being enough).