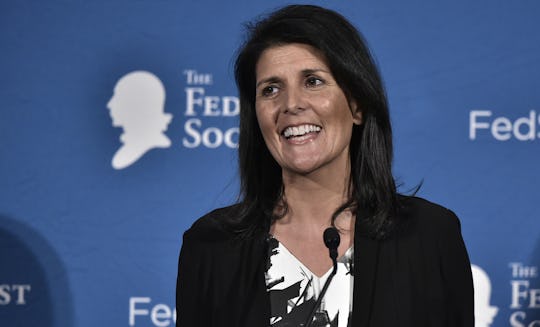 MANDEL NGAN/AFP/Getty Images
Nikki Haley's Political Track Record Shows She Hasn't Always Agreed With Trump
South Carolina Gov. Nikki Haley has reportedly been chosen as President-elect Donald Trump's pick for U.S. ambassador to the United Nations, in a move that has come as somewhat of a surprise, given that she wasn't exactly supportive of Trump's presidential campaign prior to his win. Nikki Haley's political track record shows she hasn't always agreed with Trump on a number of key issues, but that's not the only aspect that makes the appointment unusual. According to Charleston's The Post and Courier, Haley — who, as the daughter of Indian immigrants, is South Carolina's first female and minority governor — doesn't actually have much diplomatic or foreign policy experience, and unlike many U.N. ambassadors, also doesn't have any experience in federal government. But as someone who aligns with a more traditional Republican stance, Haley's appointment could be a sign that Trump is looking to remedy the division between members of his own party, many of whom felt that Trump's campaign did not represent their conservative values.
Haley is currently serving her second term as governor, after also serving three terms in South Carolina's State House, according to NBC News. In January, she spoke out against Trump, who was running for the GOP nomination, and warned Americans against what she called "the siren call of the angriest voices," and said that she thought Trump had "definitely contributed to what I think is just irresponsible talk." One month later, Haley referred to Trump as "everything a governor doesn't want in a president." During the primaries, Haley endorsed Florida Sen. Marco Rubio, and then, when he later withdrew, Texas Sen. Ted Cruz.
One major point of contention between Trump and Haley? Their opinions on immigration — especially Trump's proposed ban on Muslims entering the country. According to NBC News, Haley told TODAY that legal immigrants should be accepted in the country regardless of where they come from:
If we have citizens who are law-abiding, who love our traditions, who do everything to be productive citizens in America, they should feel welcome in this country. The reason this country is so great is because the fabric of this country was made by immigrants, and its legal immigrants.
According to The New York Times, Haley also criticized Trump for not taking a stronger stance against white supremacy when he was endorsed by the former members of the Ku Klux Klan:
The K.K.K. came to South Carolina from out of state to protest on our Statehouse grounds. I will not stop until we fight a man that chooses not to disavow the K.K.K. That is not a part of our party. That is not who we are.
Of course, Trump has criticized Haley, too. According to CNN, Trump told Fox & Friends earlier this year that he thought Haley was "very weak on illegal immigration," and when asked whether Trump would consider Haley as his running mate, he told CNN, "well considering I'm leading in the polls by a lot, I wouldn't say she's off to a good start. Whoever I pick is also going to be very strong on illegal immigration."
He also took a swipe at Haley for reaching out to Trump to financially support her campaigns in the past. He told CNN, "she certainly has no trouble asking me for campaign contributions. It's sort of interesting to hear her. If I weren't running, she'd probably be in my office asking for money."
According to Mic, Haley received backlash from Trump supporters as a result of her comments, and became the target of tweets that made fun of her Indian Sikh background, and her given name, Nimrata Randhawa, despite the fact that she was born in South Carolina. But, according to USA Today, Haley has herself been criticized for identifying herself as white on her voter registration in 2001, which led to Democratic rivals claiming that she was using her racial identity strategically when it benefitted her. (State Republican Party Executive Director Matt Moore called the claim "just more theatrics and that's all there is to it.")
So what could we expect from Haley as a U.N. Ambassador? It's hard to say, given her lack of experience in similar roles. But, according to OnTheIssues.org, Haley's political career has shown that she aligns most closely with mainstream GOP ideals. Haley is anti-abortion, is in favor of lowering corporate taxes as well as individual income tax, does not support equal marriage rights for LGBTQ couples, has spoken out against the Affordable Care Act, and is against gun violence prevention legislation.
According to NBC News, Haley ultimately did endorse Trump once he was named the Republican presidential nominee, and, according to The New York Times, she has also said that her criticism of Trump wasn't a personal attack, and that she considered him a friend. Perhaps also worth noting, though, is that Haley's appointment as U.N. Ambassador would likely mean that Henry McMaster — lieutenant governor of South Carolina, and a strong supporter of Trump — would replace her, according to The Washington Post.