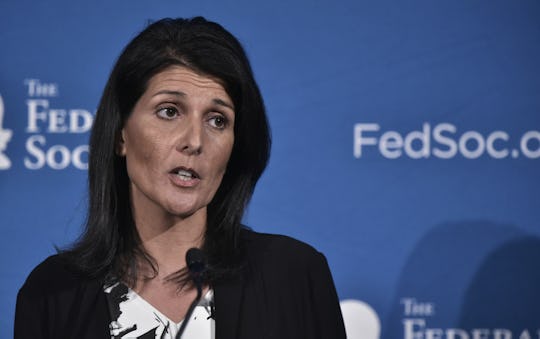 MANDEL NGAN/AFP/Getty Images
Nikki Haley's Quotes About Race Aren't Very Inspiring
On Wednesday, the transition team for President-elect Donald Trump announced its decision to appoint South Carolina Gov. Nikki Haley as the U.S. ambassador to the United Nations. She's perhaps best known for her call to remove the Confederate flag from the state house following the racially motivated mass shooting at the Emanuel African Methodist Episcopal Church in Charleston in 2015, but Nikki Haley's quotes about race reveal that she hasn't always been on the right side of history. In fact, NAACP President Benjamin Jealous had been calling for the flag's removal since 2011, but Haley's press secretary Rob Godfrey responded, "We don't expect people from outside of the state to understand that dynamic, but revisiting that issue is not part of the governor's agenda," according to Fox News.
Haley defended the Confederate flag in 2014, saying that "I can honestly say I have not had one conversation with a single CEO about the Confederate flag," according to Salon. And even in the days following the church shooting, when questioned by CBS This Morning about the possibility of removing the flag, Haley said, "Right now, I'm not doing that to the people of my state." Less than a month later, her tune had changed, and she called for its removal, according to CNN, saying, "These grounds are a place that everybody should feel a part of. What I realized now more than ever is people were driving by and felt hurt and pain. No one should feel pain."
Haley also defended her state's voter ID laws, which some decried as racist, saying "We really kind of fixed all that when you elected the first Indian-American female governor, when we appointed the first African-American U.S. senator," according to The State. Born Nimrata Randhawa, Haley is the daughter of Sikh Indian immigrants, according to Biography, and is the first woman and first person of color to serve as governor in South Carolina. In a 2015 National Press Club Luncheon Address, Haley identified as "the proud daughter of Indian immigrant parents" and recalled taking a test as a child and checking the box marked "other" when specifying her race. However, she identified as "white" on her voter registration, according to Mother Jones, and although The New York Times reported that she had a Sikh wedding ceremony in 1996, she claims that she converted to Christianity some time before that.
Race and religion aren't the only issues Haley has waffled on; she originally endorsed Florida Sen. Marco Rubio for president, according to CNN, then prayed for Texas Sen. Ted Cruz to defeat Trump once Rubio dropped out of the race, according to NBC News. At the Republican National Convention, when she was thrice asked if she endorsed Trump, she declined to give a direct answer. She has, however, accepted his offer to be the U.N. ambassador.