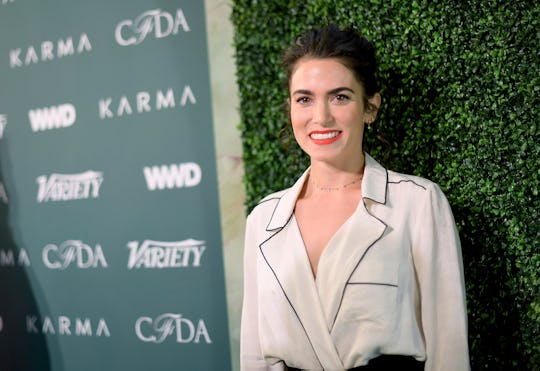 Matt Winkelmeyer/Getty Images Entertainment/Getty Images
Moms Are Loving This Stunning Photo Of Nikki Reed Breastfeeding Her 14-Month-Old
There is so much appreciation to be had for moms who keep it real — and actress Nikki Reed is one of them. She is constantly posting gorgeous photos to her Instagram that show that she knows how to stay grounded. And her most recent Instagram photo proves that. This Instagram photo of Nikki Reed breastfeeding her 14-month-old is getting so much love and attention for the best reasons: people are so happy that she is showing this on camera for everyone to see.
Reed, best known for her role in the Twilight film series, is more than just an actress: she designs eco-friendly products with her line, Bayou With Love, and she's a mom to a 14-month-old daughter, Bodhi, with her husband, Ian Somerhalder. Reed and Somerhalder are notoriously private when it comes to Bodhi, according to InStyle. So, any update or mention of their daughter on social media is certainly welcomed by fans.
This could be just one of the reasons why Reed's Instagram post on Sunday is getting so much love from fans. In the photo, Reed can be seen breastfeeding her daughter under her sweater with the biggest smile of contentment on her face. The photo looks absolutely blissful, and the caption of the photo is absolutely perfect.
"#14monthsandnursingwithteeth," Reed hilariously captioned the photo.
"The most beautiful and natural thing there is," one fan wrote. "Go mama, go."
And the best part is, other moms started sharing their own stories about breastfeeding their children past the age of 1 in the comments, too.
"Two years and nursing with teeth," one mom commented. "Right there with ya!"
"13 months for me!" another commenter added. "Breastfeeding anywhere!"
"14 months too for us!" another commenter exclaimed.
But maybe the best comment was made by Reed's husband and Bodhi's father. "The two most beautiful and powerful humans," Somerhalder wrote. Awwwww.
Hearing stories like these are so special. Extended breastfeeding, or breastfeeding past the age of one, according to Parents, is normal and should be talked about more often. The American Academy of Pediatrics advises that as long as both mom and baby are happy with breastfeeding, they can continue past infancy. Breastfeeding comes with so many benefits for both moms and babies, according to Parents, so for Reed (and other moms) to share their own breastfeeding stories helps normalize it.
But, as previously stated, people are also excited about seeing a glimpse of Bodhi for one of the first times ever (even if it is just her feet). Reed gave birth to Bodhi last year on July 25, 2017, according to E! News. However, in the past year and a few months, Reed hasn't shown her daughter's face on social media, according to InStyle, choosing to limit how much of her family that she shares with fans. This past February, however, Reed shared a photo of her daughter for the first time, according to InStyle, and it was just of her daughter's feet.
Although fans aren't super involved in Reed's life as a mom, she does occasionally let them in. In a super touching Instagram post a few months ago, Reed wrote the sweetest note to her daughter, according to People. "You made me a mom," Reed wrote in the photo's caption. "You made me a true believer in a love I'd only ever dreamed of."
But after her Instagram post on Sunday, it's clear that Reed needs to share this part of her life more, because fans are loving it a lot. Hopefully the feedback on this post inspires Reed to post more touching and honest moments with her daughter.