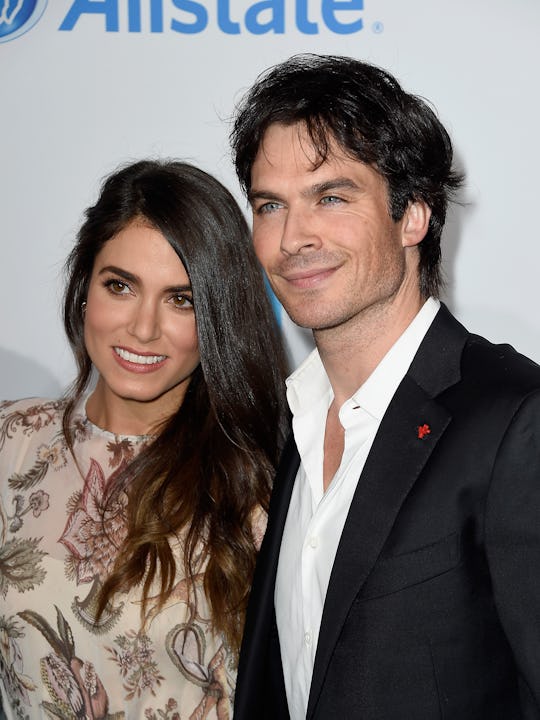 Frazer Harrison/Getty Images Entertainment/Getty Images
Nikki Reed & Ian Somerhalder Are Expecting!
Nikki Reed's Instagram followers got some ultra-exclusive news this Thursday: It looks like Reed and Ian Somerhalder are expecting their first child! Reed posted a photo featuring husband Somerhalder kissing her bump, along with a sweet message to their future little one. You can review Reed letter's below — it's a pretty tender note:
I know you, but only because I feel you. How is it possible to love someone so much already? All I know for sure is it's the strongest feeling I've ever felt. We've been sharing this body for quite some time, and we've already experienced so much together. We can't wait to meet you.
Adorable, huh? Well, this lucky baby has two enthusiastic parents, both of whom are willing to spread their love online. Somerhalder posted the same photo of him with Reed along with a note of his own. "In my 38 years on this earth I've never experienced anything more powerful and beautiful than this," he gushed.
But why is it that we're all only now finding out about Reed and Somerhalder's pregnancy? Her bump looks like it's been growing for some time. "This has been the most special time of our lives and we wanted to keep it between the three of us for as long as possible so we could enjoy this time with each other and our little one who is growing so fast," Somerhalder explained, "because that's what they do, they grow so fast." Truer words were never spoken.
The couple has been married for two years; Reed and Somerhalder wed in 2015 and, since then, the two have pretty much always expressed that they wanted to grow their family. When ET asked Somerholder if he and Reed were thinking about having kids back in 2015, he responded: "Oh, h--- yes! Absolutely." Though it was a given from the get-go, the couple did think it through. "It's a pretty crazy time and place to bring a child into this turbulent and insane world," Somerhalder admitted, "but I really can't wait to do it and really just love it."
Reed and Somerholder share love messages on Instagram often. At the end of April, the two celebrated their second wedding anniversary, and took to the app to applaud each others' kindness and growth over the years. "Navigating the waters of life with you is the greatest and most rewarding adventure I've ever known," Reed wrote. "We climb, we grow, and we laugh at all of it." For a couple who thrives on new journeys, a new baby is about the most life-changing adventure there is.