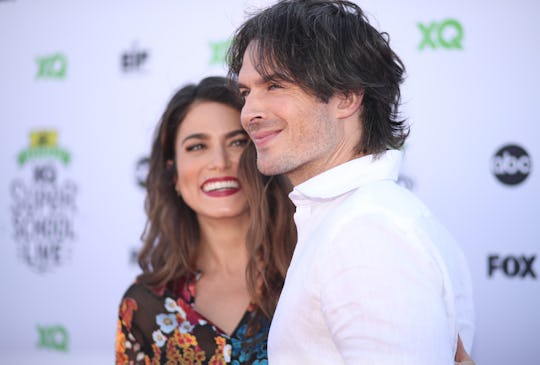 Christopher Polk/Getty Images Entertainment/Getty Images
Nikki Reed Responds To *That* Birth Control Comment
Jokes can be misconstrued and everyone has been there at some point. Someone overhears just one private joke between you and another person and it blows up. Actors and married couple Nikki Reed and Ian Somerhalder know this to be true. During a podcast appearance on Thursday, Somerhalder "joked" about elaborately throwing away his wife's birth control pills to get her pregnant. Needless to say, people weren't too happy with it. On Friday, Reed responded that birth control comment after people took to Twitter to rightfully call out Somerhalder on his "joke."
To a lot of people Somerhalder's joke wasn't funny at all. But here's exactly what went down. During an appearance on the podcast, Dr. Berlin's Informed Pregnancy Podcast, the parents to a newborn daughter, Bodhi, joked about the moment they knew when they were going to try to get pregnant — which conveniently was when Somerhalder threw away Reed's birth control pills. while Reed was watching. But the took that joke even further, saying that Reed's reaction was "caught on camera" somewhere and that Somerhalder "made" the decision for them to start a family. As you can see, that could easily get misconstrued — especially if you aren't close to the couple or haven't seen the video.
But Reed quickly came to her husband's defense on Friday, tweeting that people had misinterpreted Somerhalder's comments. "Women's rights matter, so please don't use false narratives to highlight issues that are truly important," Reed wrote on Twitter. A representative for Somerhalder did not return Romper's request for comment.
Reed continued, tweeting, "We should be talking about these things, but using a funny interview between married people and twisting it to perpetuate gossip is irresponsible." Fair enough. Other than this fun anecdote, people don't know anything about Reed and Somerhalder's decision to get pregnant, therefore they shouldn't assume anything either.
It's obvious that Somerhalder was only joking and that his actions were all in good fun. But some people didn't see it that way. Others felt like Reed and Somerhalder shouldn't have joked about it in the first place, knowing that the future to obtain free access to birth control is something that many women are uncertain about. Every women deserves the right to choose whether or not she gets pregnant or keep the baby — and some felt like that isn't something that should be joked about. People took to Twitter to share their opinions about his comments, joke or not.
But Reed is definitely right — more people should be talking about these things. Unwillingly using her and her husband as an example isn't fair to either of them, especially since people don't know the full story behind their decision. As Reed stated on Twitter, she did consent to Somerhalder throwing away her birth control pills, resulting in "one of the happiest, most memorable days" of her life. Consent is the most important word here.
Instead of talking about Reed and Somerhalder in particular, people should be talking about an important issue brought up in this discussion — reproductive coercion, or when a women's partner decides if they should get pregnant without their consent. In 2013, the American College of Obstetrics and Gynecologists urging doctors to screen patients for coerced behavior and asking them whether or not they intended to get pregnant. It's more common than you would expect.
But Reed and Somerhalder are not an example of this. They were more than ready and willing to get pregnant and Reed seemed to have loved every minute of her pregnancy. In an interview with Fit Pregnancy & Baby, Reed said that being pregnant gave her "instant perspective." "Pregnancy is the moment where you find your path and do what you want, when you want, how you want," she said.
While Somerhalder's comments do bring up an important issue, it isn't an issue that pertains to Somerhalder or Reed.