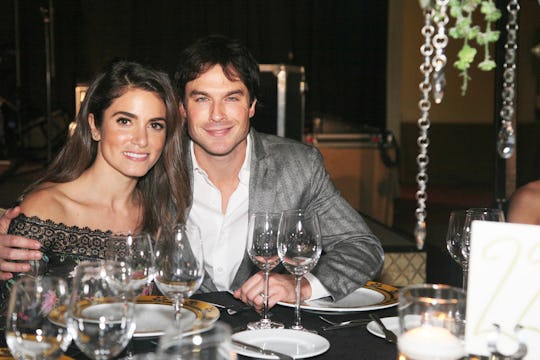 Peter Larsen/Getty Images Entertainment/Getty Images
Nikki Reed's Feminist Quotes Show Her Unapologetic Badass Side
Actress Nikki Reed recently became a mother for the first time, after she and husband Ian Somerhalder welcomed their daughter, Bodhi Soleil, into the world on July 25, according to People. Prior to their baby's birth, the super-in-love couple had been open about their excitement towards prospective parenthood, and about how Reed's pregnancy had transformed their outlook on the world. But Nikki Reed's feminist quotes show that she's been a totally confident and self-assured mama-to-be — and that she'll be a great role model for her little girl now that she's finally here.
Reed might be best known for her acting career, but the 29-year-old is actually involved in many different projects outside of her on-screen work. She's an accomplished screenwriter and musician, an animal rights and environmental advocate, and most recently, she also became a fashion designer: according to InStyle, Reed launched a sustainable line called Bayou with Love, earlier this year. At the time of the launch, Somerhalder praised his wife's hard work in a post on Instagram, and wrote, "One of my favorite things about you is your ability to say that you're going to do something and then actually do it." But he likely wasn't just talking about her clothing line. From the sounds of it, Reed is well-aware of her own ability to make her dreams a reality, and she wants other women to do the same.
She Has Zero Time For Your Sexist Nonsense
Reed and Somerhalder might seem like a match made in heaven, but that doesn't mean they haven't experienced their fair share of criticism. For one, the couple announced their engagement in Jan. 2015, after six months of dating — the same month that Reed finalized her divorce to her to Paul McDonald, according to Us Weekly. But it was Somerhalder's previous relationship with his Vampire Diaries co-star Nina Dobrev that really got the rumor mill churning.
Dobrev and Somerhalder dated for three years, before ultimately calling in quits in 2013, according to E! News. But when Dobrev announced on Instagram in April 2015 that she'd be leaving The Vampire Diaries — the same month that Reed and Somerhalder tied the knot — fans of the former couple wondered if jealousy was to blame.
Not so, says Reed. In an Instagram post in February, the actress posted a photo of the three of them together, and explained that after a few years of choosing to simply ignore what she called "baseless rumors," and "made up stories about 'friends backstabbing friends,' [and] 'cheating exes," the trio realized they "[had] a moral responsibility to young girls to end that narrative." And her message was a powerful one:
[The fans'] passion and endless devotion for a tv show is being taken advantage of, replaced with feelings of anger through divisive techniques, & even worse, their minds are being shaped & molded as their view of themselves, other girls, & what those dynamics should look like are being formed. So here's to putting an end to all those fake stories of on set jealousy, betrayal, made-up-friendships lost & women hating women. Because at the end of the day, that's what this is about: teaching girls that you have to hate other girls only breeds a generation of women who believe you have to hate other women.
But Reed didn't stop there. She wrote,
And finally, let's use this as an example of how important it is to stop this trend of writing horrible headlines about women, painting us as bitter, angry, insecure, heartbroken, childless, feuding, backstabbing monsters because whether we want to admit it or not, it changes the way all women view themselves. And shame on these websites for now targeting an even younger demographic, instilling this at an earlier age when girls are even more susceptible, more vulnerable and more malleable. When we write these headlines we teach hate. I've seen it firsthand. Let's shift what we put into the universe starting now, & hopefully we will start to see a shift in the way we treat each other & view ourselves.
She Stands Up For What Matters
In addition to taking a stand against the rumors surrounding her supposed feud with Dobrev, Reed regularly uses her social media accounts to speak out about issues that are important to her, in an effort to use her fame to do some good.
One example? On Sundays, she lends her Instagram account to the team behind Years of Living Dangerously, a climate change documentary series Reed is involved with. That means that each week, the group is able to share an important message about carbon pricing and other environmental issues with Reed's more than 2 million followers, which is a pretty great way to get the word out.
But the environment isn't the only cause close to Reed's heart. According to the Years of Living Dangerously website, Reed is also an ambassador for the Humane Society of the United States, and serves as a director at The Ian Somerhalder Foundation, which helps to "empower, educate and collaborate with people and projects to positively impact the planet and its creatures." And in March 2015, the actress even testified at the California State Capitol to support a bill that would allow animals who have been used for animal testing to be adopted, according to E! News. In an Instagram post, Reed wrote,
[Animals] used for science should not be discarded — the cruelty that they endure being used for research purposes is harsh enough — let's not further the abuse by claiming that rescues are not equipped to help them live out the rest of their lives peacefully.
She's Learned To Appreciate Her Own Body
There's no question that being a Hollywood celeb means constant scrutiny about your appearance, and that seems like it would be really difficult to handle, no matter who you are or what you look like. Reed told Fit Pregnancy earlier this month that she's always tried to push back against unrealistic body expectations and the unfair pressure placed on all women, which is important in general. But it sounds like her sense of body confidence is stronger than ever now that she's a mother, and it's a valuable message. Reed said,
As an actress, I'm surrounded by chatter about my body. How do I look on the red carpet? Whose dress am I wearing? I've always rebelled against that, but being pregnant has given me this new and powerful appreciation for my body. Why do I suddenly have this layer of fat? Oh, it's because my body needs to create breast milk. Why am I hungry and thirsty? Because my body is creating amniotic fluid. I want to write my pregnant body love letters, it's so f**king cool!
She's Not Afraid To Do Things Her Way
As for her approach to new motherhood, Reed told Fit Pregnancy that, as with pretty much everything else in her life, she planned on following her heart, and doing what felt right. Specifically, she says that meant taking a "month of silence" to give herself and Somerhalder a chance to adjust to parenthood, and soak in every minute of new baby bliss. And, well, she doesn't seem to care what anyone thinks of that decision. Reed said,
We'll take the baby's first month for ourselves. After the baby arrives, we're doing one month of silence. Just the three of us, no visitors, and we're turning off our phones too, so there's no expectation for us to communicate. Otherwise, every five minutes it would be, 'How are you feeling? Can we have a picture?' You don't get those first 30 days back, and we want to be fully present.
As any new parent knows, trying to accommodate visitors when you have a newborn is tough — and that's not even taking into account prying eyes from paparazzi or fans. Taking time off might not have been welcome news for any fans hoping for a baby update or a perfectly-styled new baby photoshoot, but it definitely sounds like it was the right choice for them. And Reed's ability to stay true to her own needs without apologizing is a valuable skill that all women should feel entitled to do (not to mention something that all little girls should be able to grow up witnessing).
Nikki Reed's life might look a lot different from the average woman's, but beneath the glamorous, celebrity exterior, there are some incredibly important messages about empowerment that are totally relatable. By living her life without feeling the need to explain her choices, and also by not feeling afraid to stand up and say something when it's something she believes in, she's reminding other women that they have the right to do that, too. And it's an important lesson her daughter will surely learn first-hand as she grows.